Water Source and Geothermal Heat Pumps feature electronic expansion valve.
Press Release Summary: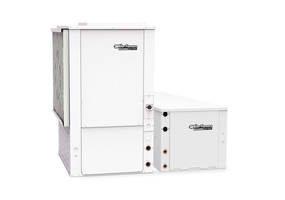 Available in horizontal and vertical configurations with white powder coat finish or unpainted, Versatec Variable Speed Series Water Source and Geothermal Heat Pumps come in 3 to 6 ton capacities. Featuring all-aluminum air coils, aurora advanced controls and EC direct drive fan motor, units come with optional AlumiSeal™ coating. Made of heavy-gauge galvanized steel construction, product's interior surfaces are equipped with ½ in. thick fiber insulation.
---
Original Press Release:
New Versatec Variable Speed Series 3- To 6-Ton Water Source and Geothermal Heat Pump Line from Waterfurnace Maximizes Occupant Comfort Levels and Building Savings
Units offer capacity range of 25 to 100 percent, scaling output to match building needs
WaterFurnace International, Inc., the leading manufacturer of geothermal and water source heat pumps, introduces the Versatec Variable Speed Series in 3- to 6-ton capacities. This innovative commercial variable capacity water source and geothermal heat pump line offers industry-leading efficiency in a compact cabinet, available in both horizontal and vertical configurations for versatility in any application.
Aurora advanced controls offer true energy, refrigeration and optional performance monitoring, while the optional Aurora UPC DDC package uses BACnet, N2 or LON protocols to integrate into building automation systems. With a capacity range of 25 to 100 percent, the Versatec variable speed system scales its output to match building needs, maximizing occupant comfort levels and building savings.
The new heat pump line features Copeland Gen2 variable speed scroll compressors and inverter drives. The compressor's brushless permanent magnet motor, along with variable volume ratio and high volumetric efficiency valves, provide outstanding performance and reliability.
The units also include all-aluminum air coils that help ensure durability and efficiency. An optional AlumiSeal™ coating offers added protection. Additional features include:
Optional modulating reheat that modulates via compressor speed to deliver true low-humidity neutral air
Electronic expansion valve with superheat envelope control that provides optimal refrigerant flow in the variable capacity system to ensure high efficiency and compressor reliability
Integrated EC direct drive fan motors with an oversized forward curve blower on select models that provide high efficiency and constant CFM quietly, no matter the external static pressure
The new line also features cabinets constructed of heavy-gauge, environmentally responsible galvanized steel for maximum corrosion resistance. Units are available with a durable white powder coat finish or unpainted. All interior surfaces are lined with ½-inch-thick, foil-lined acoustic-type fiber insulation, applied in a manner that prevents the introduction of glass fibers into the airstream.
To learn more, visit the WaterFurnace website at www.waterfurnace.com.
More Information:
As part of NIBE Climate Solutions North America, WaterFurnace International, Inc. is a leading manufacturer of residential, commercial, industrial and institutional geothermal and water source heat pumps. Although it earned a reputation as a leader in geothermal heat pumps, WaterFurnace has worked in recent years to innovate new technologies, integrate key trends and grow the core business to represent a portfolio of clean and sustainable solutions. WaterFurnace was founded in 1983, and the company is headquartered in Fort Wayne, Ind.
Additional information about the Company and its products is available at www.waterfurnace.com.
Related links:
WaterFurnace - http://www.waterfurnace.com/
Geothermal - http://www.waterfurnace.com/geo_energy.aspx
Heat pumps - http://www.waterfurnace.com/geothermal-heat-pumps.aspx
Versatec Variable Speed Series – http://www.waterfurnace.com/products.aspx?pl=60&prd=Versatec_variable_speed
Contact:
Water Furnace
9000 Conservation Way
Fort Wayne, IN 46809
260-478-5667
More from Electronic Components & Devices