Water Soluble Cleaner helps maintain fertilizer injectors.
Press Release Summary: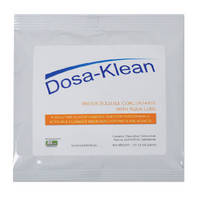 Dosa-Klean, with Aqua Lube, removes rust, bio-deposits, and calcifications while lubricating injector's interior seals and all moving components. Product can assist in extending life of fertilizer injectors when used as part of yearly maintenance. For use, 1 packet of Dosa-Klean is dissolved in 1 gallon of water. Injector parts are disassembled and soaked in mixture for 24-48 hours, and then thoroughly rinsed with clean water.
---
Original Press Release:

Introducing Dosa-Klean - a Water Soluble Cleaner for Fertilizer Injector Parts



CLEARWATER, Fla, - Introducing Dosa-Klean, an exciting new solution designed specifically for maintaining and cleaning fertilizer injectors.

Dosa-Klean, with Aqua Lube, is a water soluble concentrate that removes rust and calcifications while it lubricates the injector's interior seals and all moving components. Using Dosa-Klean can assist in extending the life of fertilizer injectors.
Lela Kelly, Dosatron International's Vice President of Horticulture, recommends using Dosa-Klean as part of the fertilizer injector's yearly maintenance. First clean the injector parts by soaking them overnight in the Dosa-Klean solution, then rinse and replace the injector seals with new seals from a seal kit. The fertilizer injector will feel like it is brand new.

"Our in-house Service Department Technicians use Dosa-Klean on almost every injector that comes in for service or general maintenance." commented Dosatron Service Technician Brad Haug. "I have serviced Dosatron injectors for over 15 years and Dosa-Klean certainly makes my job easier. As soon as you place the parts in the solution it begins removing even the toughest of deposits with no or very little scrubbing."
As it cleans, Dosa-Klean provides lubrication where needed, is easy to use and is safe for fertilizer injectors. For Dosa-Klean directions click here and for the MSDS sheet go to www.dosaklean.com/media/MSDS_Dosa-Klean.pdf.

Dosa-Klean is available online at www.dosaklean.com or for more information contact Customer Service at 800-523-8499.

More from Controls & Controllers