Water/Soil Probes provide long-term temperature measurments.
Press Release Summary: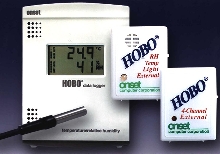 External probes, designed for use with HOBO H8 family and HOBO LCD data loggers, provide temperature monitoring of water and soil. Sensor tips and cables are suitable for immersion in water up to 122°F for one year. Overall measurement ranges are 32 to 122°F in water and -40 to +212°F in air, with accuracy of ±1.3°F at 68°F. Probes are available with cable lengths of 6, 20, or 50 ft. Response is rated at 3 min to 90% in airflow of 1 m/sec.
---
Original Press Release:
Water/Soil Temperature Probes for Use with HOBO® Data Loggers

Reliable temperature monitoring of water and soil is easier than ever with Onset Computer Corp.'s new line of external Water/Soil Temperature Probes, designed for use with HOBO H8 family and HOBO LCD data loggers. Sensor tips and cables are suitable for immersion in water up to 50°C (122°F) for one year. Overall measurement ranges are 0°C to 50°C (32°F to 122°F) in water; and -40°C to 100°C (-40°F to 212°F) in air, with accuracy of +/-0.7°C at 20°C (+/-1.3°F at 68°F).

The Water/Soil Temperature Probes are available with cable lengths of 6, 20, or 50 feet and with connectors for easy plug-in to external-channel ports on HOBO H8 or LCD loggers. The longer-cable version is not available for use with the LCD logger.

The new external temperature sensors combine fast response characteristics (3 minutes to 90% in airflow of 1 m/sec; 1 minute to 90% in stirred water) with robust construction for reliable long-term monitoring of temperature in wet environments.

About HOBO H8 and HOBO LCD Data Loggers

Onset's HOBO data loggers are stand-alone, battery-operated units providing easy-to-use data collection at affordable prices. The H8 family comprises 9 different models for indoor and outdoor use, with capability to log from 1 to 4 measured variables, including temperature, humidity, light level, AC current, and 4-20 mA or 0-2.5 VDC input from third-party sensors. Intrinsically safe versions of several models are suitable for monitoring in classified hazardous locations.

HOBO LCD indoor data loggers measure and record temperature or temperature/RH (relative humidity) using internal or external sensors and provide a real-time LCD display of the measured variables, battery level, memory status, and alarm conditions based on user-programmed temperature or RH limits. A relay output on the LCD units can be used to initiate a remote audio alarm and/or autodialer to alert users to out-of-range temperature or RH conditions.

About Onset Computer Corp.

Onset Computer Corporation has been producing small, inexpensive, battery-powered data loggers since 1981, and has sold over 500,000 units used throughout the world by more than 15,000 customers. Over 75 models of Onset data loggers measure temperature, humidity, rainfall, wind, barometric pressure, light, AC current, carbon monoxide, 4-20 mA, voltage, on/off, open/closed, and events. Onset data loggers are used in a wide range of research, commercial and educational applications including agriculture, forestry, field biology, food production, manufacturing, transportation, and HVAC. NASA has used HOBOs to measure space suit temperatures during spacewalks.

Pricing

Probes for H8 Data Logger Family - with 2.5-mm jack connectors
Water/Soil Temp Probe with 6-foot cable $35.

Water/Soil Temp Probe with 20-foot cable $40.

Water/Soil Temp Probe with 50-foot cable $45.

Probes for use with HOBO LCD Data Logger - with RJ-12 connectors

Water/Soil Temp Probe with 6-ft cable $45.

Water/Soil Temp Probe with 20-ft cable $50.

Reader Inquiries:

Onset Computer Corporation

Tel: 1-800-LOGGERS (1-800-564-4377), 508-759-9500

Fax: 508-759-9100

Email: sales@onsetcomp.com

Web: www.onsetcomp.com
More from Electronic Components & Devices