Water-Saving Faucet offers temperature control option.
Press Release Summary: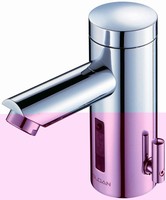 Available in battery-powered or hardwired models, Optima® Lino(TM) faucet offers double IR sensor-based operation and uses microprocessor-based logic. Models with Integral Spout Temperature Mixer include lever that lets users adjust water temperature. Also available, i.q.-cliq(TM) button on spout of select models is used to access user-directed modes such as temporary off and continuous run. Single-supply faucet models deliver water at pre-set temperature.
---
Original Press Release:

Sloan's Sensor-Operated Optima Lino Faucet Updates Restrooms with Styling and Temperature Control Option



FRANKLIN PARK, IL-Sloan Valve Company has introduced its Optima® Lino(TM) faucet, the latest in the company's line of sensor-operated, water-saving plumbing fixtures.

The chrome-plated, die-cast metal faucets, featuring single-hole European styling, fit a variety of installation applications. Various decorative finish options are available, and trim plates may be ordered for sinks with three-hole punchings.

Models with the Integral Spout Temperature Mixer, which are intended for hospital rooms, executive restrooms and other locations where people have greater familiarity with the faucets, include a lever that lets users adjust the water temperature. When users press the i.q.-cliq(TM) button on the spout of select models, they tap into user-directed modes, including "continuous run" and "temporary off." This adjustment can also be converted to a fixed setting.

Single-supply faucet models, which are appropriate for public restrooms, deliver water at a pre-set temperature.

Equipped with double infrared sensors and microprocessor-based logic, the Optima Lino faucet is available in battery-powered or hardwired models.

Sloan Valve Company, the world's leading manufacturer of water-conserving plumbing systems, is celebrating its 100-year anniversary in 2006. Headquartered in Franklin Park, Illinois, the company manufactures plumbing products and accessories for commercial, industrial, and institutional markets worldwide.

For more information on the Sloan Optima® Lino(TM) faucet, contact Sloan Valve Company at 10500 Seymour Avenue, Franklin Park, IL 60131. Telephone 800-9-VALVE-9 (800-982-5839 ext. 5609), fax 800-501-3989 or visit www.sloanvalve.com

For more information, contact:
Susan Kennedy (847) 671-4300
James Nowakowski (847) 358-4848

Related