Water Resistant Coating withstands elements.
Press Release Summary: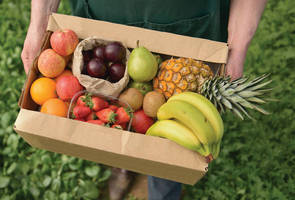 By imparting water repellency, HydraBan® 430 helps maintain structural integrity of paper and corrugated shipping boxes while they are in service or in transit. This, in turn, helps protect container contents. FDA-compliant, water-based coating, effective for applications where exposure to environmental conditions – cold, heat, humidity, moisture – is unavoidable, is repulpable, printable, and gluable. It can be run with or without dilution and applied off-line, in-line, or via flexo.
---
Original Press Release:

Michelman's New HydraBan® 430 Coating for Corrugated Withstands the Elements; Helps Maintain Product Integrity



CINCINNATI, OH – Michelman will introduce HydraBan 430, a highly water resistant coating for paper and corrugated in Booth #15 at the ACCCSA 2014 convention being held July 27-30, 2014 in Cartagena, Colombia.



Because it imparts a high degree of water repellency, the new coating helps maintain the structural integrity of corrugated shipping boxes while they are in service or in transit, while also protecting the contents of the container.  HydraBan 430 is particularly effective for applications where exposure to environmental conditions such as cold, heat, humidity and moisture is unavoidable. Typical applications includes corrugated containers used for perishables, consumer goods and building products.



Hydraban 430 is a versatile and economic water-based coating that is FDA compliant, repulpable, printable and gluable.  It is easy-to-run with or without dilution and can be applied off-line before the corrugation process or in-line on the corrugator, from the wet or dry end, with a rod or blade coater. It can also be applied via flexo.



About Michelman

Michelman is a global developer of water-based barrier and functional coatings for flexible film packaging, paperboard, and corrugated cartons; and water-based surface modifiers, additives and polymers for numerous industries including wood and floor care, industrial coatings, inks, fibers, composites, and construction products. Michelman serves its multinational and regional customers with production facilities in the U.S., Europe and Singapore, and a worldwide network of highly trained field technical support personnel.



Michelman Global Headquarters

9080 Shell Road

Cincinnati, OH  45236

1-800-333-1723 (US & Canada); (513) 793-7766 (Worldwide)

(513) 793-2504 (Fax)

michelman.com

More from Electronic Components & Devices