Water Purifiers/Generators provide fresh, potable water.
Press Release Summary: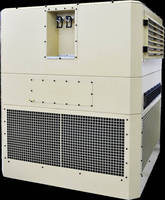 Using multi-barrier filtration, battery-operated and back-carried SPRINGÂ purifies water of chemical and microbiological contaminants. Unit weighs 12 kg, complies with military water standards, and can purify 45 gal of water per single battery at flow rate of 10–15 gal/hr. Leveraging GENius™ heat exchange technology, GEN-350G Atmospheric Water Generation Unit creates 450 L of water per day directly at point of use from natural humidity at efficiency of 310 kW-hr/L.
---
Original Press Release:

DSEI 2013: Water-Gen Introduces Next Generations of SPRING Back-Carried Water Purification and GEN-350G Atmospheric Water Generation Units



SPRING successfully completes extensive field and logistic trials by Israeli Army prior to equipping the army with hundreds of systems;



GEN-350G was a huge success at the NATO Capable Logistician Exercise 2013 (CL13), and won a US Army tender to supply a number of systems to Honduras



Rishon Le'Zion, Israel… Water-Gen - a leading provider of tactical water supply solutions to Armies, Police Forces, and NGOs - will introduce the next generations of its SPRING Back-Carried Water Purification and GEN-350G Atmospheric Water Generation units at the DSEI exhibition in London, September 10-13, Israel Pavilion, Hall South, Booth #S8-263.



SPRING

A battery-operated, back-carried water purification unit, SPRING was developed in cooperation with the Israeli Ministry of Defense (MOD) and the Israeli Defense Forces (IDF), and has successfully completed extensive field and logistic trials prior to equipping the IDF with hundreds of systems. Utilizing a specially-designed multi-barrier filtration method to purify chemical and microbiological contaminants - including pesticides, cyanide, bacteria, and viruses - the system represents a significant improvement over other solutions available today, and is the only one that complies with military water standards. SPRING provides fresh, potable water while a unique monitoring system continuously tracks the operational status of the unit and the quality of the water. If the unit detects a deviation from the required water quality, or any suspected malfunction, it automatically shuts down and alerts the user in order to prevent consumption. The system, which weighs 12 kg, can purify 180 liters (45 gallons) of water per single battery, at a flow rate of 40-55 liters per hour (10-15 gallons/hour).



GEN-350G

The GEN-350G Atmospheric Water Generation Unit creates water directly at the point of use from the natural humidity in the air. Requiring no additional infrastructure or consumables, the unit produces 450 liters/day at a remarkable efficiency of 310 kWatt-hour/liter - enabled by the revolutionary GENiusTM heat exchange technology, using the only heat exchanger made of plastic - that allows the production of 5 times more water per kilowatt of electricity consumed than any other solution. GEN-350G was a huge success at the NATO Capable Logistician Exercise 2013 (CL13) as a representative of the UK, and won a major US Army tender for the supply of a number of systems to Honduras.



Also on display will be Water-Gen's atmospheric water generation units for combat vehicles, which produce 30-60 liters per day of safe, high-quality water from the air. Both these units significantly decrease the dependence of the troops on continuous resupply, reducing the overall logistical burden.  These systems recently won a French Army tender for the purchase of the systems for evaluation.



According to Arye Kohavi, CEO of Water-Gen, "We have recently established ourselves as global leaders in the field, having sold dozens of systems to a variety of customers worldwide - including armies, police forces, and NGOs - and having successfully participated in a number of demonstrations and exercises. In addition, we are in a period of significant technological advancement, and are proud to present new generations of our flagship products that are breaking all water production records - both in terms of low production costs as well as electricity requirements."



He continues, "As we progress in our marketing and R&D efforts, we note great interest in our solutions being expressed by many markets, and are confident that in the coming months, we will be able to announce additional orders and purchases. We invite you to visit our booth to get a closer look at our solutions."



Water-Gen Ltd.

Water-Gen - based in Israel - develops and manufactures atmospheric water generation, treatment, and purification solutions for tactical maneuvering forces and forward operating bases. Water-Gen's solutions are based on patented developments in the fields of heat exchange, water purification, and more. The company cooperates with armed forces and defense companies to design robust, innovative products that meet military and water standards. Water-Gen is a world leader in its fields of operation, and its products have been sold to the US Army and the UK, French and Israeli MODs, as well as to civilian and humanitarian organizations in India and other countries.



Press contact:

David Gillo

VP Business Development

Water-Gen

T: +972-3-9416861/2

F: +972-3-9416860

M: +972-52-3065360

E: davidg@water-gen.com

More from Communication Systems & Equipment