Water Purification Systems target laboratory market.
Press Release Summary: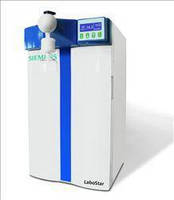 Designed to produce ASTM Type I water, LaboStar purifies water from pre-purified water source, while LaboStar TWF purifies water from tap feed source. Both analytical-grade deionization systems include positively charged 0.2 micron sterile filter, which allows production of ultrapure water with endotoxin levels less than 0.001 EU/ml. For applications that require low TOC levels, both systems are available with UV sterilization and enhanced-organic-removal deionization polishing cartridge.
---
Original Press Release:

Siemens Introduces LaboStar Analytical-Grade Water Purification Systems for the Laboratory Market - Ultrapure Water Quality from a Compact, Easy to Use, Cost-Effective System



Siemens introduces LaboStar and LaboStar TWF compact deionization water purification systems for producing ASTM Type I water. The LaboStar system purifies water from a pre-purified water source and the LaboStar TWF system purifies water from a tap feed source. Included with all systems as standard equipment is a unique, positively charged 0.2 micron sterile filter, installed at the dispense point. This bacterial/biological protection filter allows the system to produce ultrapure water with endotoxin levels of less than 0.001 EU/ml. For applications that require low total organic carbon (TOC) levels, both the LaboStar system and LaboStar TWF system are available with ultraviolet (UV) sterilization and an enhanced-organic-removal deionization (DI) "polishing" cartridge. All systems can be easily integrated into an existing central high-purity water system loop.

The compact LaboStar system produces ultrapure water in an easy-to-use, cost-effective design.

The LaboStar system integrates two DI cartridges and optional UV that polishes the feed water from reverse osmosis (RO) or DI pretreatment, or a combination of RO plus DI or RO plus continuous electrodeionization (CEDI) pretreatment. The LaboStar TWF system is available with pre-purification product flow rates of three liters per hour, or seven liters per hour for applications with large daily use requirements. The system features a unique pretreatment module that produces RO quality water from a tap water feed source, and an integral 7-liter tank for storing RO-quality water from the pretreatment cartridge. Water is sent from the tank to a DI cartridge for further purification when Type I water is required at the point of use. When not in use, all LaboStar systems circulate the water through the UV and DI cartridge pack to maintain high water quality. The systems are available as bench-top or wall-mounted-only units.

All systems are microprocessor controlled and feature an easy-to-navigate menu and an easy-to-read display that shows water conductivity or resistivity at multiple points in the system, including after the final DI cartridge. The LaboStar TWF system also shows the tank volume on the system display panel. All systems include a set of replacement cartridges. Further information about solutions for water treatment is available at http://www.siemens.com/water.

LaboStar is a trademark of Siemens Water Technologies Corp. or its affiliates in some countries.

The Siemens Industry Sector (Erlangen, Germany) is the worldwide leading supplier of environmentally friendly production, transportation, building and lighting technologies. With integrated automation technologies and comprehensive industry-specific solutions, Siemens increases the productivity, efficiency and flexibility of its customers in the fields of industry and infrastructure. The Sector consists of six divisions: Building Technologies, Drive Technologies, Industry Automation, Industry Solutions, Mobility und Osram. With around 207,000 employees worldwide (September 30), Siemens Industry achieved in fiscal year 2009 total sales of approximately 35 billion. www.siemens.com/industry The

Siemens Industry Solutions Division (Erlangen, Germany) is one of the world's leading solution and service providers for industrial and infrastructure facilities comprising the business activities of Siemens VAI Metals Technologies, Water Technologies and Industrial Technologies. Activities include engineering and installation, operation and service for the entire life cycle. A wide-ranging portfolio of environmental solutions helps industrial companies to use energy, water and equipment efficiently, reduce emissions and comply with environmental guidelines. With around 31,000 employees worldwide (September 30), Siemens Industry Solutions posted sales of 6.8 billion in fiscal year 2009. Further information and downloads at: www.siemens.com/industry-solutions

More from Laboratory and Research Supplies and Equipment