Water Metering System features dynamic 2-way communication.
Press Release Summary: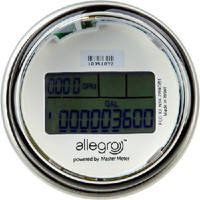 Incorporating near real-time event monitoring, detailed GIS integration, and automated migration between Drive-by and Fixed Network modes, Allegro Advanced Metering Infrastructure and Harmony Meter Data Management and Analytics Suite allow utilities to analyze, manage, and precisely account for system-wide water consumption. Allegro endpoint, built on Under-the-Glass technology, fully encloses RF circuitry, meter register, and dual-band antenna in IP68-rated hermetically sealed design.
---
Original Press Release:

Harmony MDM and Allegro AMI are Born at AWWA's ACE '15 in Anaheim, CA



ANAHEIM, Calif., -- Master Meter, Inc., a leading intelligent meter and data delivery provider, is announcing at ACE '15 for immediate release, Allegro and Harmony, their newest Advanced Metering Infrastructure (AMI) and Meter Data Management (MDM) and Analytics Suite.  Incorporating dynamic 2-way communication, near real time event monitoring, detailed GIS integration, and automated migration between Drive-by and Fixed Network modes, Allegro and Harmony represent an intelligent solution for data hungry utilities.



"The overarching architectural design for Allegro and Harmony was inspired by the simplicity found in nature.  Efficient use and design of network components to maximize the RF footprint, while synchronizing communication between endpoint and collector, results in the most cost effective AMI system available today," explains Ian MacLeod, Vice President of Marketing.  "Together, Allegro and Harmony allow the utility to analyze, manage, and precisely account for system-wide water consumption, and at the same time empower the rate payer to responsibly and confidently make informed decisions about their personal usage."



Harmony was developed to analyze and present the data in an intuitive and informative way.  This new and ground breaking MDM suite truly empowers the ratepayer to manage their usage, and offers a turnkey self-service model to lighten the load of today's strained water utilities.



The Allegro AMI network is a robust high powered 450MHz system; however, the real star of the show is the Allegro endpoint.  Built on the same Under-the-Glass (UTG) technology Master Meter has leveraged for 15 years, the Allegro endpoint fully encloses in an IP68-rated hermetically sealed design, the RF circuitry, meter register, and dual-band antenna, providing consistent performance for over a decade.  With over 5 Million UTG units in the ground, from Toronto to Los Angeles, Master Meter has a proven solution fit for any environment.



For more information, visit www.mastermeter.com.



About Master Meter

Master Meter is intent on driving new and innovative ways to manage the vast amount of data flooding into Smart Cities and Utilities.  We're a high-service solutions provider specializing in advanced metering, data delivery, and Utility Intelligence (UI) software and our portfolio of new and innovative technology continues to grow in support of a dynamic and rapidly changing global water market.  Mindful of a tight and very finite water supply, Master Meter is here to support your conservation efforts, ensuring ample supply for generations to come.  Join us.



Trademarks

Allegro, Harmony, and Master Meter are registered trademarks of Master Meter, Inc.



Contact:

Ian MacLeod

817-842-8152



Web Site: http://www.mastermeter.com

More from Electronic Components & Devices