Water Meter has no moving parts.
Press Release Summary: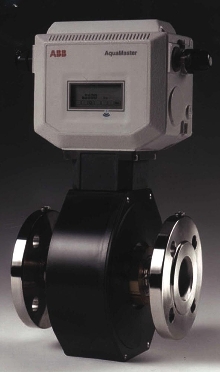 AquaMaster Electronic Water Meter is designed for water utility revenue applications and is offered in sizes 5/8 to 24 in. Battery-powered units operate between 99.5% and 100.5% in normal operating range, in both forward and reverse flow. AC-powered units operate between 99.75% and 100.25%. On 2 in. size, AquaMaster measures flows as low as 0.18 gpm (AC) and 0.4 gpm (battery). Sensor and display are submersible, allowing installation where flooding occurs.
---
Original Press Release:
Electronic Water Meter Offers Higher Revenue, Lower Costs with Battery Power
ABB AquaMaster Out-performs Mechanical Meters July 22, 2002. ABB Water Meters, Ocala, Florida, today released upgrades of its electronic water meter line, AquaMaster and AquaMaster S, offering battery powered units to lower installation costs and expand applications. AquaMaster covers the full flow range of most mechanical meters, allowing AquaMaster to replace compound, turbine, fire service and propeller meters with higher initial and long-term accuracy. AquaMaster is available in sizes 5/8" to 24". "Although they've been improved over the last two hundred years, most mechanical design meters are based on an 18th century design. This is a real opportunity for utilities to improve revenues and reduce costs while maintaining initial accuracy, and improving long-term accuracy, compared to mechanical design meters. Utilities now have the ability to harness the power of electronics for their revenue metering," commented Joakim Weidemanis, ABB Water Meters President. The AquaMaster Electronic Water Meter is specifically designed for water utility revenue applications. Battery-powered AquaMaster units operate between 99.5% and 100.5% in their broad normal operating range, in both forward and reverse flow. For example, on a 4" AquaMaster ±0.5% is achieved from 40 gpm to 1268 gpm. AC-powered AquaMaster units operate between 99.75% and 100.25% over an even broader flow range: on the 4" size between 10 gpm and 1268 gpm. The added accuracy represents a revenue improvement even compared to new mechanical meters. Plus, AquaMaster's revenue advantage grows as meters age: AquaMaster boasts no moving parts to wear and lose accuracy, as do mechanical designs. AquaMaster also offers low flow accuracy comparable to mechanical designs. On its 2" size, AquaMaster measures flows as low as 0.18 gpm (AC) and 0.4 gpm (battery). AquaMaster's installation, operating and maintenance costs are well below mechanical designs. First, AquaMaster's unobstructed flow tube requires no strainer, an instant cost saving. The AquaMaster sensor can be buried, eliminating the need for meter vaults or pits for new installations, and both the display and sensor are submersible, allowing installation where flooding occurs. Next, AquaMaster's compact size and lightweight design, particularly when compared to fire service and compound meter designs, minimizes equipment and personnel required for installation, and allows replacement of existing mechanical meters without replumbing. AquaMaster's "Fit and Flow(TM)" technology requires no on-site set-up. With battery-powered AquaMaster units, the cost of providing and operating AC-power disappears. Lower head loss than most mechanical design meters also translates into lower power costs for utilities. The time and cost related to periodic testing of mechanical meters is eliminated. With no moving parts, AquaMaster needs no replacement of worn parts to retain accuracy. AquaMaster is compatible with electronic and AMR meter reading systems and incorporates a user-programmable multiple tariff feature allowing routing of accumulated flow volume to one of two tariffs, depending on time and date. ABB (http://www.abb.com) is a global leader in power and automation technologies that enable utility and industrial customers to improve performance while lowering environmental impact. In addition to producing over 8 million water meters each year, ABB is the world's leading supplier to the water industry, and is a leading source for water supply and wastewater treatment plants, instrumentation and control products, motors and drives and water application software. ABB has some 152,000 employees in more than 100 countries. The company's U.S. operations employ more than 14,000 people in manufacturing and other facilities in 40 states. Additional information on ABB's Metering Solutions and Project Capabilities can be found at abb.com/metering [select Water Metering, North America, Turnkey Solutions] or by contacting the Customer Service Team, P.O. Box 1852, Ocala FL, 34478. In the U.S. Outside Florida, please call 800-874-0890 or inside Florida 800-356-6829. In Canada please phone 800-263-9110, in the Caribbean 787-872-2006 or in Mexico 525-328-1400. You can also e-mail us at abbwatermeters@us.abb.com. For more information please contact: ABB Water Metering Heidi Walsh 352-732-4670 phone 352-368-1950 fax heidi.walsh@us.abb.com