Water Level Datalogger suits long-term measurement applications.
Press Release Summary: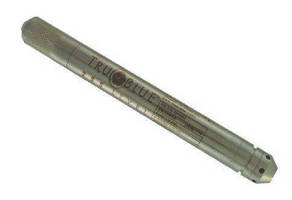 Featuring internal, 3.6 V lithium battery with surge protection, TruBlue™ 255 Level stores up to 550,000 level and temperature measurements in standard 8 MB memory (3.7 million with optional 56 MB memory). Battery lasts 10 years, based on one reading every 5 min, and auxiliary battery option doubles lifespan. Linear, linear averaging, and event sampling modes with programmable rates up to 8 Hz are available. Available FS water level ranges vary from 0–16 M H2O up to 0–188 M H2O.
---
Original Press Release:

Precision Water Level TruBlue(TM) 255 Level Data Logger



Measurement Specialties, Inc. (NASDAQ: MEAS) introduces the TruBlue™ 255 Level data logger which offers more memory, longer battery lifespan and a new compact design. Featuring advanced, power-conserving microprocessor technology, the TruBlue™ 255 Level is part of the TruBlue™ line specifically designed for long-term measurement of water levels in environmental and watershed management applications including groundwater, surface water, wave height, tide and harbor gauging.



With a standard internal memory of 8 MB, the TruBlue™ 255 Level data logger is capable of storing up to 550,000 level and temperature measurements. Optional 56 MB memory increases storage capacity to 3.7 million measurements. Its internal 3.6 V lithium battery, with on-board surge protection, has a lifespan of ten years based on one reading every 5 minutes, making the transducer ideal for remote environmental data collection and process monitoring. An auxiliary battery option doubles the battery lifespan and makes it ideal for rapid sampling applications such as wave height studies.



Sampling modes include linear, linear averaging, and event, with programmable sampling rates of up to 8 Hz. Additionally, this new unit provides an accuracy of +0. 05% FS total error band which includes changes in temperature within the compensated temperature range of 0oC to 50oC.



The TruBlue™ 255 Level data logger is shipped with free TruWare™, our user-friendly software created specifically for the TruBlue™ line. Users are able to graph and export logged data using this easily manageable software. The software is available for both PC and mobile Windows applications.



The TruBlue™ 255 Level data logger is available in full scale water level ranges from 0-16 M H2O up to 0-188 M H2O (from 22 to 300 psi). The 3/4" diameter unit comes in welded 316 SS or titanium, making it ideal for a variety of applications including brackish and seawater.  It has a two-year warranty, is shipped standard with a calibration report and is the perfect choice for water level monitoring when accuracy, reliability and precision are needed in a competitively priced design.



Measurement Specialties, Inc. designs and manufactures sensors and sensor-based systems. The company produces a wide variety of sensors and transducers to measure precise ranges of physical characteristics such as pressure, force, vibration, torque, position, temperature, humidity, fluid properties, mass air flow and photo optics. Measurement Specialties uses multiple advanced technologies – including piezo-resistive, electro-optic, electro-magnetic, variable reluctance, magneto resistive, digital encoders, thermistors, thermocouples, RTDs, capacitive, resonant beam, application specific integrated circuits (ASICs), micro-electromechanical systems (MEMS), piezoelectric polymers and strain gauges to engineer sensors that operate accurately and cost-effectively in customers' applications.



For more information about Measurement Specialties and our products, email sensors.help@meas-spec.com or visit us at www.meas-spec.com.



Bobby Lee

Office (510) 498-1570 x241

bobby.lee@meas-spec.com

More from Packaging Products & Equipment