Water Heaters offer capacities of 1-25 million btu/hr.
Press Release Summary: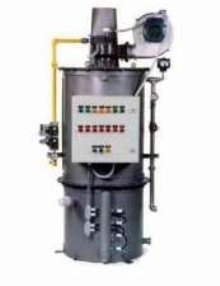 Direct-contact, gas-fired Flo-Direct water heaters are all stainless steel units suited for variety of hot-water applications. Offering heat transfer efficiencies of 98% or greater, units are NSF 5 certified for all food grade water and can operate well with poor water quality. Typical applications include laundries, batch food processes, washdown, parts washers, concrete plants, and boiler makeup water.
---
Original Press Release:

Flo-Direct Contact Gas-Fired Water Heaters


Flo-Direct, direct contact gas-fired water heaters are high efficiency, compact, all-stainless steel units that are simple in design and operation and suitable for a wide variety of hot-water applications. With capacities from 1 million to as high as 25 million btu per hour, these units can offer fuel savings of 15% to 40% over conventional means of heating water.

Features Include:
o Small footprint for space savings
o 98% or greater heat transfer efficiencies
o Simple installation and operation
o Ease of maintenance
o Ability to operate well with poor water quality
o All units are NSF 5 certified for all food grade water

Typical Applications:
o Laundries
o Batch food processes
o Washdown
o Parts washers
o Drying operations
o Gang showers
o Concrete plants
o Boiler makeup water

More from Mechanical Components and Assemblies