Water Heater uses plate type heat exchanger.
Press Release Summary: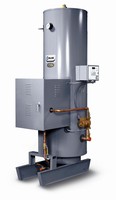 Vertically packaged SPH Series water heaters provide solution for producing domestic hot water with hydronic boilers including cast iron, copper tube, water tube, or specialty high efficiency condensing boilers. Completely packaged and ready for use, heater is available in range of storage tank volumes from 60-500 gal with ability to heat up to 2,500,000 BTU/hr of hot water.
---
Original Press Release:

Cemline Corporation Introduces Vertical Packaged Storage Plate Boiler Water Fired Heat Exchanger Water Heaters (SPH Series)



The SPH is a perfect solution for producing domestic hot water being heated by hydronic boilers including cast iron, copper tube, water tube, or specialty high efficiency condensing boilers.

The SPH Packaged Water Heater uses a Plate Type Heat Exchanger allowing for maximum heat transfer between the boiler water and the domestic water. This style of water heater when used with a high efficiency condensing boiler allows for more efficient operation of the heater as the SPH heat exchanger can return the boiler water to the hydronic boiler at lower temperatures than a traditional u-bend heat exchanger. The heat exchanger can even allow for temperature crosses between the boiler water outlet and domestic water outlet temperatures. This heater can be used in many hydronic heating style applications including those systems using low temperature boiler water.
Cemline Storage Plate Heaters are completely packaged, ready for use and require only connection to services. The Cemline SPH is available in a variety of storage tank volumes from 60-500 gallons with the ability to heat up to 2,500,000 BTU/hr of hot water.

For more information on the SPH:
http://cemline.com/brochures/sph.pdf
For more information on Cemline Corporation:
Curtis J Wetzel
800-245-6268
curt@cemline.com

Related