Water Heater offers thermal efficiencies up to 98%.
Press Release Summary: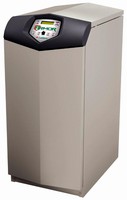 Available in 5 commercial models with inputs from 150,000-500,000 BTU/hr, ARMOR Water Heater is designed to be installed with separate storage tank for protection against harmful effects of lime scale buildup. Along with stainless steel heat exchanger, product is equipped with fully modulating 5:1 turndown burner and SMART SYSTEM(TM) control with built-in cascading sequencer. Water heater can be vented using PVC or CPVC pipe and permits direct-vent distances up to 100 ft.
---
Original Press Release:

New Lochinvar ARMOR Heats Up Industry



Lochinvar Introduces 98% Thermally Efficient Water Heater

LEBANON, TN - March 2007 - Lochinvar's new ARMOR Water Heater offers thermal efficiencies up to 98 percent. Featuring inputs up to 500,000 Btu/hr, a stainless steel heat exchanger, 5:1 modulating turndown and Lochinvar's SMART SYSTEM(TM) operating control, the ARMOR water heater stands above the competition.

ARMOR Plus Storage Tank - A Better Idea!

ARMOR is available in five commercial water heater models, offering a choice of 150,000, 199,000, 285,000, 399,000 and 500,000 Btu/hr inputs. In addition, ARMOR is designed to be installed with a separate storage tank, which eliminates many potential problems encountered with traditional tank-type water heaters.

The unique ARMOR design protects against the harmful effects of lime scale buildup, which can cause a traditional heater to fail in as little as two to five years and substantially increase operating costs. For example, just 1/4-inch of scale in the tank can increase operating costs by as much as 25%. Since ARMOR heats the water and then deposits it in an unfired storage tank, lime scale buildup does not impair the heat transfer efficiency.

5:1 Turndown Delivers Money-Saving Precision

The ARMOR water heater is equipped with a fully modulating 5:1 turndown burner, which enables it to fire as low as 20% of maximum input and smoothly modulate up to 100% depending on demand. This is a definite advantage over competitive units that are only capable of firing at 100% input. With 5:1 turndown, ARMOR takes maximum advantage of its thermal efficiency, eliminating wasted fuel and reducing operating costs.

SMART SYSTEM Provides Ultimate Control

ARMOR is equipped with Lochinvar's SMART SYSTEM(TM) control, which includes a built-in cascading sequencer for installations using up to eight water heaters, to maximize hot water delivery. This exclusive feature ensures optimum performance and efficiency by precisely modulating firing rates from minimum-demand situations when only one water heater is required at 20% of rated input to full-on 100% firing of up to eight units.

In addition, the SMART SYSTEM features a two-line, 16-character LCD display using easy-to-understand words instead of potentially confusing codes. Other standard control features are a built-in water heater pump control, password security and night setback. Optional software is also available for a PC, which offers expanded capability for recording, tracking and analyzing system data to fine-tune operation for maximum performance and troubleshooting.

100-Foot Direct-Vent Flexibility

The ARMOR water heater can be vented using inexpensive PVC or CPVC pipe and permits direct-vent distances up to 100 feet for both combustion air and vent runs.

Lochinvar Corporation is a leading manufacturer of high-efficiency water heaters, boilers, pool heaters and storage tanks. Based in Lebanon, Tenn. with facilities in Detroit, Orlando, Tampa, Pompano Beach, Dallas and Philadelphia, Lochinvar stocks all products in all locations. For more information about Lochinvar, contact: Lochinvar Corp., 300 Maddox Simpson Parkway, Lebanon, Tenn. 37090; Phone: (615) 889-8900; Fax: (615) 547-1000; www.Lochinvar.com. For media inquiries, please contact the following:

Candace Parker
(615) 889-8900
cparker@lochinvar.com

More from HVAC