Water-Gen Awarded a Tender for Integration of its Two Unique Water Supply Systems Into French Army's VBCI Vehicles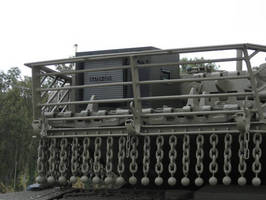 A third Water-Gen System - SPRING Mobile Purification – to be Supplied to IDF and Israel's Home Front Command



Water-Gen was selected as one of the World's 50 Most Innovative Companies for 2014 by Fast Company Magazine, ranked #21



June.11, Hall 6, Stand C-468, Eurosatory 2014, Paris

Water-Gen - a leading provider of tactical water supply solutions to military, police, and NGO forces - announces the selection of two of its water generating systems for integration into the French Army's new VBCI vehicles, which will be supplied by the main contractor for this tender - the French company,Cofely-INEO. The Water-Gen systems chosen for the new vehicles are the GEN-40V atmospheric water generator system and the WTU water treatment units. Each vehicle will receive either the GEN-40V or the WTU, according to the French Army's requirements. The systems differ in the source used to generate water- either the air or the vehicle's air conditioning system.



Water-Gen will concurrently supply the IDF and Israel's Home Front Command with a third system – its mobile purification solution - SPRING. All three systems will be presented at Eurosatory. According to many global military standards, a soldier must be provided with an average per-day water supply of 10 liters. In addition, three days of logistic independence is required for all new combat infantry carrier vehicles, which carry an average of 10 soldiers.. Therefore, in order to comply with these standards, vehicles are required to carry a staggering 300-liter supply of water - a quantity that cannot be stored using common water containers.  Water-Gen's one-of-a-kind approach enables the production and supply of water in the required quantities, while utilizing minimum space in the vehicle and without adding weight.



"The systems selected for the French Army tender - the GEN40V and the WTU - are our most recent innovations", says Arye Kohavi, Chairman and Co-CEO for Water-Gen. "These unique technologies are what allowed Water-Gen to be selected by the French Army as the sole provider of its tactical water-supply solutions - an achievement in which we take great pride." He goes on to say, "Water-Gen has received worldwide recognition by armies, police forces, and NGOs, as a creator of technological breakthroughs in the area of water supply for military forces. Among recent honors are the selection by the United Nations as one of the top 20 most innovative new technology companies in the world - as well as Fast Company Magazine's selection as one of the 50  Most Innovative Companies in the World for 2014. Our solutions are being used by a wide range of customers around the world, and we invite everyone to visit our booth during the exhibition, and to learn more about our technology."



More About The Products



GEN40V - Vehicle Atmospheric Water Generator Unit

The vehicle-mounted GEN40V extracts water from air and supplies cold, fresh, pure drinking water for the vehicle's crew. The system is optimized to operate in a wide range of environmental conditions. Units are scaled to fit military tactical vehicles, and can be produced in different dimensions and shapes. Cold water is served from a tap in the vicinity of the cabin. Water production is automatically optimized as ambient climatic conditions change. Water quality meets TB MED (USA), STANAG (NATO), World Health Organization (WHO) and Environmental Protection Agency (EPA) standards. Easy to operate and maintain, the unit includes Water-Gen's patented GENius™ heat exchange technology, enabling extremely high energy efficiency (Wh per liter of water produced) and water production capabilities. The GEN-40V produces 40 liters/day (12 gallons/day) at 25oC (77oF) and 55% Relative Humidity.



WTU - Water-Treatment Unit for Vehicle HVAC or Ground A/C

Water-Gen's Water Treatment Unit (WTU) harvests the water produced by A/C systems and purifies it to achieve high quality drinking water. The WTU can also be connected to the A/C controller in order to increase and optimize the water production capabilities of the system without disrupting its main function - moderating air temperature. The water produced by the A/C is passed through a filtration and sterilization system and through a mineralization filter that adjusts the acidity of the water and improves its taste and quality.



SPRING Mobile Purification System

Water-Gen will also supply SPRING, its back-carried mobile purification system, to IDF training bases - as well as to Israel's Home Front Command for dealing with natural disasters. The battery-operated SPRING system uses a specially designed multi-barrier filtration method to purify severe chemical and microbiological contaminations, including pesticides, cyanide, and the entire range of bacteria and viruses. A unique control system continuously monitors the operational status of the unit and the quality of the water - both at the inlet and the outlet. If the unit detects a deviation from the required water quality or any suspected malfunction, it automatically shuts down and alerts the user. Suitable for a platoon or squadron, the unit pumps, filters, and dispenses fresh, pure water from any unauthorized water source, including tap water from a captured building, water tanks on roofs, wells, etc. Weighing only 12 kg. (26 lbs.), it can filter 180 liters (47 gallons) per single standard communication battery.

More from Controls & Controllers