Water Filters provide filtration to 5 microns.
Press Release Summary: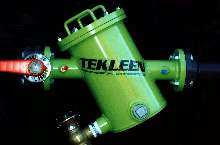 Tekleen® fully automatic, self-cleaning water filters feature stainless steel body and range in size from 1-24 in. dia with flow rates of 5-12,000 gpm. Absolute filtration to 50 microns is standard; 5 micron is optional. Filters are offered in on-line, in-line, parallel, and bell-shaped configurations. They can be manifolded together for unlimited flow capacities. Applications include utility water, chemical processing, irrigation, plastics, HVAC, and oil refining.
---
Original Press Release:
Fully Automatic Self-Cleaning Water Filters Range from 1 Inch to 24 Inches and Provide Filtration to 5 Microns
Filter applications include utility water, chemical processing, food and beverage, steel, automotive, irrigation, plastics, HVAC and oil refining Los Angeles, CA (January 25, 2003) -- Tekleen® automatic filters are maintenance-free, operate on water pressure alone, and eliminate the labor of replacing screens, bags and cartridges. Constructed with a stainless-steel body, filter sizes range from 1" to 24" in diameter with flow rates of 5 gpm to 12,000 gpm, respectively. Absoltute filtration to 50 microns is standard; 5 micron filtration, is optional. Tekleen filters are offered in on-line, in-line, parallel and bell-shaped configurations. Also available are skid-mounted systems which are often the immediate solution for many filtration needs. Tekleen filters utilize Tekrinse®, a new screen cleaning technology designed to save up to 90% of rinsing water. As water passes through the filter, dirt particles are captured on the screen, causing a drop in pressure. When the pressure drop reaches a pre-set level (35 psi min.), a DP sensor is triggered and the cleaning cycle is initiated. The Vacuum Screen Cleaner aggressively suctions the dirt from the inside of the screen and flushes it out the drain. The backwash cycle is accomplished automatically in seconds without interrupting the main water flow. Tekleen screen material is SST 304L; optional screens are available in 316L, titanium, Hastelloy C and other high-quality metals. If desired, filters can be custom manufactured to meet a wide range of industrial applications including ASME coded, sea water, high temperature and high pressure. Several varieties of low-flow models are available. Filters can be manifolded together for virtually unlimited flow capacities. A reliable line of electronic and hydraulic backwash controllers and flushing valves is also available. Located in the heart of West Los Angeles, California, Automatic Filters, Inc. is the corporate headquarters and distribution center for the Tekleen line of automatic self-cleaning water filters. The company's executive management team possesses an unparalleled level of skill and experience in the development and manufacture of premium-quality water filters. The engineering, marketing, and customer service departments work together to assist our customers with virtually any application. Tekleen filters are sold around the world through a highly trained network of professionals ready to help you with your specific requirements. For more information on Tekleen automatic self-cleaning filters, please contact Gideon Brunn, Applications Engineering, 310-839-2828, Fax 310-274-6878, e-mail: info@tekleen.com. Please visit our web site at www.tekleen.com.
More from Fluid & Gas Flow Equipment