Water Bottles allow transportation of 30% more water.
Press Release Summary: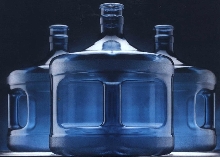 Eleven liter water bottles feature adjusted shoulder and ribs, allowing 3 containers to fit per slot in industry standard rack. Inside of neck is smooth, ensuring little opportunity for bacteria to form. Handle allows users to easily exchange empty containers for full ones.
---
Original Press Release:

New and Improved Water Bottles from Greif Brothers Corporation


New 11-Liter Bottle Transports 30% More Water

Delaware, OH (April 24, 2002) - Spring water producers can more effectively transport filled containers and better protect against leakage with new and improved water bottles from Greif Bros. Corporation, a global leader in industrial packaging. The bottles are also available through Van Leer Water Bottles, which is a Greif business.

Greif's newly developed round 11-liter bottle features adjusted shoulders and ribs. With this special design, three containers can fit per slot in an industry standard rack, allowing the transport of 30% more water when compared to similar size bottles.

The bottle also features a convenient handle, allowing consumers to easily exchange empty containers for full ones. Greif's 11-liter bottles are manufactured in the United Kingdom and can be exported to all European countries.

Greif has also introduced a new neck design, offering better protection against leakage. Stronger than the conventional blown neck, the inside of Greif's new neck is smooth and the traditional lip has been removed, ensuring there is little opportunity for bacteria to form. Dimensions of the new neck remain unchanged, allowing customers to use the design on existing bottle stocks.

Greif specializes in developing application-specific industrial shipping container/packaging solutions, serving a wide range of large to small and multinational to local businesses around the world. In addition to water bottles, Greif provides steel, plastic and fibre drums, intermediate bulk containers, closure systems, corrugated containers and other corrugated products, multiwall bags and containerboard.

For more information on Greif's water bottles, contact:

In Europe: Marc ter Haar, Global Product & Market Manager, Water Bottles, Tel: +31 (0) 294 238 334; Email: waterbottles@vanleer.com; Web: www.waterpackaging.com.

In North America: Eric Nelson, Product Manager, Water Bottles, Tel: (570) 459-9075. Email: ewnelson@greif.com; Web: www.greif.com.


More from Computer Hardware & Peripherals