Water-Activated Tape provides tamper-evident seal.
Press Release Summary: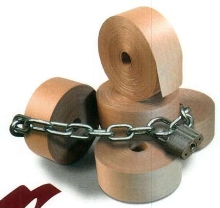 Suited for use on corrugated cartons, reinforced BetterSeal(TM) Secure Tape bonds with carton to produce sturdy, secure seal. Product is available in more than 15 different styles and comes in lengths from 375-3,000 ft. Optional printing is available. E-Z® Pull Tab style adds tear strip that eliminates need for use of box cutters or sharp blades. Optional printers and other accessories are available to enhance security.
---
Original Press Release:

New Reinforced BetterSeal(TM) Secure Tape Provides Strength and Security Benefits Not Available with Other Sealing Methods


Shelton, CT, March 2005 -- Better Packages-the number-one trusted name in water-activated tape dispensers and carton sealers-announces the introduction of reinforced BetterSeal(TM) Secure Tape. The reinforced tape, which is part of a new, complete line of water-activated tapes from Better Packages, provides a strong, tamper-evident seal when used on corrugated cartons.

BetterSeal Secure Tape offers security and strength benefits that other sealing methods do not. For example, unlike plastic pressure-sensitive tape, which can be easily removed and replaced or easily damaged with rough handling of packages, BetterSeal (water-activated tape) bonds with the carton and produces a sturdy, secure seal. Manufacturers, food and drug companies and government agencies, including the US Postal Service and the FBI, recognize the benefits of using water-activated tape as a simple, cost-effective means to help protect the contents of their packages from tampering and thievery.

Evidence of tampering is especially important for shippers of luxury goods, such as Tiffany and Cartier; pharmaceutical companies, such as Johnson & Johnson and Eli Lilly; and catalogers like L.L. Bean and Lands End, which is one reason they all use Better Packages machines and water-activated tape.

The benefits of BetterSeal Secure Tape are further extended with optional printers and other accessories to enhance security. Better Packages dispensers can be fitted with a Code Taper, which imprints words, numbers or codes on the tape at the time it is dispensed. Frito Lay's Dayville, Conn., for example, prints different codes on its labels for each shipment so it knows the dates they were sealed. The Code Taper saves companies time and money by labeling and sealing at the same time. Optional Security Ink prints codes on the tape using invisible ink. The codes, viewable only with black light, tell a company if anyone has tampered with a package. When combined with visible inks, the measure of security increases greatly.

BetterSeal Secure Tape is available in more than 15 different styles, including reinforced and non-reinforced, and in lengths from 375 feet to 3,000 feet, and optional printing on the tape is offered. An E-Z® Pull Tab style offers all the security and strength benefits of water-activated tape with an easy-to-open tear strip, eliminating the need for dangerous box cutters or sharp blades.

About Better Packages
Better Packages, founded in 1917 and headquartered in Shelton, Connecticut, since 1924, is the world's leading manufacturer of water-activated tape dispensers used for carton sealing. The company also offers case sealers, pressure-sensitive tape dispensers, on-demand polybag making machines, polyethylene tubing and a full line of dispenser accessories. Its products are sold and serviced in the United States and in 20 countries worldwide. Its systems are used whenever security, strength, efficiency, productivity and a professional image are needed. For more information, please visit www.BetterPackages.com.

More from Chemicals & Gases