Wastewater Evaporator is suited for metalworking industry.
Press Release Summary: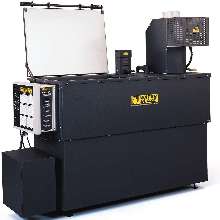 Natural gas-heated HBG wastewater evaporator, adaptable for liquid propane, features 60% larger combustion chamber design than previous model. Double-lid design offers access to tank. Using high-density refractory ceramic, combustion box requires 400,000 BTUH to evaporate up to 30 gal/hr. Unit provides extra 20 gal of tank capacity and reduces waste stream by up to 98%.
---
Original Press Release:

Landa Announces Upgrades to HBG-30 Industrial Wastewater Evaporator


Landa, a leading manufacturer of wastewater treatment systems, has announced significant improvements to its largest, natural gas-heated HBG wastewater evaporator.

The HBG wastewater evaporator, which can be adapted for liquid propane, features a new combustion chamber design that is 60% larger, which results in a more energy-efficient burn. Using high-density refractory ceramic, the combustion box requires only 400,000 BTUH to evaporate up to 30 gallons per hour as compared to 500,000 - 550,000 BTUH in traditional systems.

Such savings can reduce operating costs to only pennies per gallon, depending on local fuel costs.

The HBG evaporator, which is especially effective for handling wastewater in the metalworking industry, also is nearly 40% longer, with an extra 20 gallons of tank capacity and features a new double-lid design for easier access to the tank itself.

Metalworking fluid sump life can vary depending on how well it is maintained, type and grade of cutting fluid used and how well anaerobic bacteria is controlled. Once lubricating properties have declined, the metalworking fluid must be disposed of at a high cost.

The metalworking industry can choose from primary treatment options to manage non-hazardous waste streams, such as: sewer discharge, hauling off site, in-house treatment through chemical separation, or evaporation. With today's increased cradle-to-grave liabilities, hauling metalworking fluid is becoming a less attractive form of disposal. Evaporation is a simple "one step" process that can reduce a waste stream by up to 98%.

For more information, contact Crismon Lewis: 800-547-8672 Ext. 175.

Katie Odem
Marketing
C-Tech Industries
4275 NW Pacific Rim Blvd.
Camas, WA 98607
Voice 360-833-1600 ext. 193
Fax 360-833-9200
Katie.odem@c-techind.com

More from Controls & Controllers