Wastewater Chamber offers alternative to leach fields.
Press Release Summary: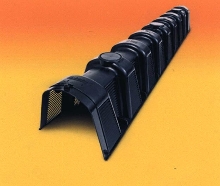 Narrow EnviroChamber is made from HPDE with open bottom, solid top, and louvered sidewalls. Effective infiltrative area is more than 50% greater than stone and pipe leach field system. Sidewall has louvers to help prevent soil intrusion and allow more oxygen transfer through soil. Snap on end plate eliminates need for screws and power tools. Strong and lightweight HDPE material means no heavy equipment is needed, allowing fast installation with less backfill.
---
Original Press Release:
New Narrow EnviroChamber(TM) Expands Wastewater Management Product Line
Findlay, Ohio - June 17, 2002: Hancor announced today an extension of their EnviroChamber wastewater management system product offering. The new Narrow unit is an ideal compliment to their existing Standard and High Capacity EnviroChamber units, and all three provide a cost-effective alternative to stone and pipe leach fields. EnviroChamber units are manufactured from high-density polyethylene (HDPE) with an open bottom, solid top, and louvered sidewalls. The effective infiltrative area is more than 50% greater than a stone and pipe system. The sidewall design features uniquely positioned louvers to help prevent soil intrusion, and the snap on end plate eliminates the need for screws and power tools. The strong and lightweight HDPE material means no heavy equipment is needed, allowing fast installation. A unique rib design requires less backfill, saving material and labor costs. "Studies show that having an increased sidewall area and more open area exposed to the soil, enhances treatment by allowing more oxygen transfer through the soil," says Tim Toliver, Director of Application and Field Engineering. "The unique structural design of EnviroChamber units provide maximum soil exposure and the simplicity of installation results in hassle-free installation for the contractor." One of the nation's largest suppliers of stormwater management systems, Hancor manufactures a wide variety of plastic drainage products for the commercial, residential, construction and agricultural markets. Hancor was founded in 1887 in Findlay, OH and operates manufacturing facilities across the country. For more information, please contact: Ms. Tori Durliat, Hancor, Inc. Marketing Communications Manager 401 Olive Street, Findlay, Ohio 45840 Phone: 1-800-537-9520 Fax: 1-419-424-8275 Email: tdurliat@hancor.com