WasteCaddy Improves Operational Safety and Efficiency for Miami's Porsche Design Tower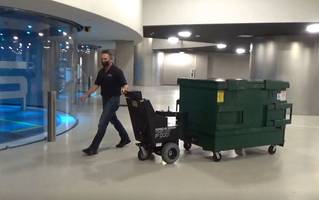 Over the last several years, DJ Products' electric WasteCaddy Dumpster Mover has changed the way multifamily and commercial property employees safely relocate waste containers within their facilities. We are pleased to announce that the luxury Miami condominium and hot spot, Porsche Design Tower, has been added to the list of properties to benefit from the WasteCaddy. 
Standing at a stately 641 feet tall with 132 luxury condo units, the Porsche Design Tower is one of the tallest and most striking buildings in Florida's Sunny Isles Beach.
The tower's impressive three automotive elevator systems allow residents to pull into the building's garage, drive into the modern glass-encased car elevator, and be swiftly transported directly to their condo.
Previous to purchasing the WasteCaddy, the Porsche Design Tower utilized two employees to move each facility dumpster by hand from the compactor down to the street for pick-up. Manually pushing the bins multiple times a day and working with limited space created a safety concern.
"Now with the WasteCaddy, we only utilize one employee to move the waste bins and it's a lot safer for him because he doesn't have to push them and get his hands into the way," says Alex Carius, General Manager of the Porsche Design Tower.
The Porsche Design Tower staff enjoy the WasteCaddy for its straightforward operation. "When we got the machines, they were really easy to use. They came right off the crate and we were able to use them immediately so no training whatsoever," says Carius. "We've been using the WasteCaddy for about six months now and it's never failed us. It's just plug and play, charge it up overnight and then use it – great product."
Porsche Design Tower representatives worked with Eddie Guerra of Canitize USA – a DJ Products' designated dealer for our WasteCaddy product line, who strongly recommended the WasteCaddy as a perfect solution for the tower. Canitize USA is a fully comprehensive Waste Management Company providing turnkey waste industry solutions for waste equipment purchasing or repairs. Canitize USA, based in Bradenton, Florida has been a trusted DJ Products' WasteCaddy dealer since 2018 and we are very pleased and grateful for our working partnership.
Click here to learn more about the WasteCaddy and to view a full list of the unit's features and specifications. To request a product demo or for more information, reach out to a DJ Products Sales Engineer at 1-800-686-2651 or info@djproducts.com. Our service teams specialize in providing custom solutions for a variety of unique applications.
DJ Products, Inc.
1009 4th St NW
Little Falls, MN 56345
Email: info@djproducts.com
Phone: 1-800-686-2651
Related