Waste Compactors target food service and marine applications.
Press Release Summary: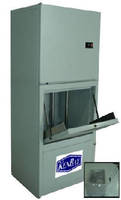 Equipped with 18 x 28.5 in. chute type opening, Series K100 can compact waste into stainless steel containers or plastic bags, or be used as baler for recycling materials. Depending upon type of material being compacted, users can expect compaction ratios from 6 times to double that amount. Units operate from 120/220 V single phase power or 240-480/600 V for marine use. Made of AISI 304 SS, marine version has stainless steel washdown motor and all electrical wiring in waterproof compartment.
---
Original Press Release:

KenBay Introduces A Top Quality Line of Compactors for Food Service Facilities



Mendham, NJ - November 20, 2009 - KenBay, with a long history of supplying high compaction small footprint compactors, has announced a new line of compactors that can be customized for users that vary from marine vessels to fast food operations.

The K100 can compact waste into either stainless steel containers or plastic bags, or be used as a baler for recycling materials. By using multiple containers trash compaction can be alternated with recycling applications. Depending upon the type of material being compacted, users can expect compaction ratios from 6 times to double that amount.

Easy In, Easy Out

Waste material can be input through a large chute type opening (18" x 28.5") at an easy to access level. The waste is easily removed with a handcart on the floor from a swing out door. Automatic shut down with any open door is featured for maximum safety.

Description of K100

The K100 is available in either a powder coated painted steel or stainless steel that was designed for attractive appearance and easy to keep clean. Used with 120V/220V single phase (3-phase is an option) or for marine use 240-480/600V (3-phase) electrical supplies where all electronics and hydraulic components are enclosed behind a refrigerator type door for easy access and clean operation. This quiet operating compactor is safe, economical and easy to operate/use by one person.

Industry Applications

Whether in restaurants, hotels, on board ships or wherever space is at a premium the quiet K100 compactor (70 - 72 decibels) is designed to function in any small, high traffic area without being obtrusive or loud. The K100 was designed with a small footprint and low profile (less than 6") to go through most doors upright.

The Stainless Steel Option

The K100 Marine Compactor is made of AISI 304 stainless steel with stainless steel wash down motor and all electrical wiring in waterproof conduit. All electrical and hydraulic components are housed in a sealed compartment. Multiple stainless steel bins with telescoping handles and wheels can easily be interchanged for different applications throughout the day.

Powder Coating for Low Budgets

Less demanding environments than on board ships or oilrig platforms can use the K100 Compactor to better suit their budget. Many indoor uses in such places as restaurants, hotels, fast foods, camps, and similar food preparation facilities can use the powdered coated painted compactor. The use of plastic bags helps keep the immediate environment clean and makes disposing of the waste easier.

About KenBay

KenBay began operations in the United Kingdom over 20 years ago as a waste disposal company. Realizing that over 80% of dumpster space was air, KenBay developed the Rotopac industrial trash compactors that are now being used throughout the world to increase the efficiency and cost effectiveness of industrial waste disposal.

The RotoPac trash compactor was well received in the UK and Ireland before KenBay began operation in the US in 1995. Engineering advancements in the ensuing years have improved and refined the RotoPac trash compactor. The unique design of the RotoPac trash compactor is patented and is now manufactured in the US along with the K100 line of compactors.

KenBay also provides a stainless steel version of the RotoPac trash compactor as well as a marine, food industry, explosion proof, plastics, and bin compactors suitable for almost every conceivable waste compacting application. Now we have expanded the success of the heavy duty RotoPac to smaller compactors with the line of K100 compactors.


More from Architectural & Civil Engineering Products