Miscellaneous Washing Equipment
Washers are designed to fit in standard cabinet opening.
Press Release Summary: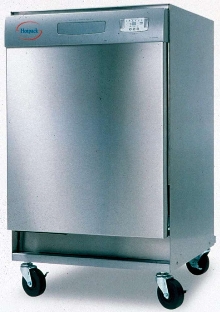 With interface that facilitates operation by casual user, Hotpack Undercounter Washers feature selectable temperature from 85 to 170°F as well as respective upper and lower rack clearances of 10.25 and 12.75 in. Spindle-ready models accommodate one or 2 direct injection spindle racks to clean as many as 22 flasks up to 20.75 in. tall or 44 flasks from 7.75-9.75 in. Optional equipment includes auxiliary drying system and automatic dosing accessory.
---
Original Press Release:

Hotpack Undercounter Washers Feature Design Simplicity for Ease of Use


Designed to fit in a standard cabinet opening, Hotpack Undercounter Washers offer a variety of features that provide excellent market value. Loading is easy and the user interface is simple to operate, allowing many casual users to operate the equipment. Temperature selections from 29°C (85°F) to 77°C (170°F) allow the washer to be used for a wide variety of different loads. With an upper rack clearance of 10.25" (26 cm) and a lower rack clearance of 12.75" (32 cm), the washer can handle most baskets in any combination. Spindle-ready models can accommodate either 1 or 2 direct injection spindle racks to clean as may as 22 flasks up to 20.75" (53 cm) tall or, for maximum loading, 44 shorter flasks [22 up to 9.75" (25 cm) tall and 22 up to 7.75" (20 cm) tall. A complete line of specialty baskets is available and a separate pump can be provided to ensure proper DI flow for installations with a very low pressure DI water supply.

An optional auxiliary drying system provides extra dry time for complete drying of glassware when necessary. Also available is an optional accessory that allows automatic detergent and neutralizer dosing from large capacity storage containers, eliminating the need for a technician to handle cleaning chemicals.

For more information, call 800-523-2327, visit our web site at www.SPindustries.com, or write SP Industries, 935 Mearns Rd., Warminster, PA 18974.

SP INDUSTRIES
SP Industries is a leading manufacturer of specialty glassware, environmental control chambers, glassware washers and dryers, and laboratory-to-production scale lyophilizers. The company, which sells its products under the following well-known brands: Wilmad-LabGlass, Hotpack, Virtis, and Hull, is structured along two distinct business lines and two product groups. The product groups are equipment and glass. The business lines are laboratory and industrial. This approach allows SP Industries to offer its customers a fully integrated package of products and services. SP Industries has made very significant investments in facilities, infrastructure, training, and people. The company has a clearly defined vision for the future that includes focusing on core competencies and developing exciting new products and services geared to meeting the demands of those markets.

The company's four glass operations are combined in one business unit located in New Jersey. The equipment line is operated from two facilities, one in Warminster, Pennsylvania and one in Gardiner, New York. Both of these facilities are ISO 9001:2000 registered. Corporate headquarters and some manufacturing operations are housed in a 75,000 square foot facility in Warminster. In addition, the company continues to invest heavily in validation and commissioning competencies. With the ongoing requirements of 21 CRF Part 11 and the emergence of GAMP 4, SP Industries is uniquely positioned as the leader in compliance and GAMP 4 commitment.

SP TechCare, the service arm of SP Industries, is structured to be highly responsive to customers. Staffed to provide after-the-sale support for all SP products, SP TechCare can respond quickly to equipment service needs. Experienced personnel offer technical assistance to help customers meet new guidelines, save time, increase productivity, simplify tasks, or reduce costs.

More from Architectural & Civil Engineering Products