Warning System complies with P25 2-way communications systems.
Press Release Summary: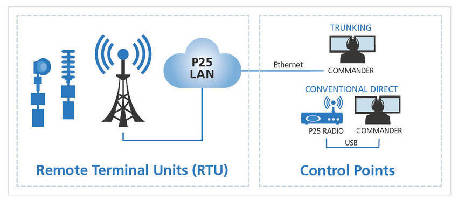 Control point computers hosting Commander® Software can connect to P25 trunked land mobile radio interface via Ethernet connection. Control points utilize broadcast functionality to communicate with all remote controllers for All Call and Group activations. For customers that need P25 direct mode communication with remote siren site controllers, software is USB plug-and-play compatible with P25 capable radios, enabling direct digital radio-to-radio communications without trunking infrastructure.
---
Original Press Release:

Introducing APCO Project 25 Support for a Federal Signal Outdoor/Indoor Warning System



University Park, Ill, – Federal Signal Corporation, Industrial Systems Division, announces the release of a Warning System that is fully compliant with APCO Project 25 (P25) two-way communications systems.



P25 Schematic (2)

Control point computers hosting Federal Signal  Commander® Software can now connect to a P25 trunked land mobile radio interface via an Ethernet connection.  Control points utilize a broadcast functionality to quickly and efficiently communicate with all remote controllers for All Call and Group activations.  IP unicast to individual remote sites is used for individual activation and polling requests to minimize radio traffic in a multi-site system.



For customers that need P25 direct mode communication with remote siren site controllers, Federal Commander Software is USB plug-and-play compatible with P25 capable radios, enabling direct digital radio to radio communications without the need for trunking infrastructure.



Federal Signal's Product enhancements include:

1. Federal Signal's Commander Software is fully compliant with P25 two-way communications systems.

2. Validation of Federal Signal Commander Warning System operation utilizing a Motorola ASTRO trunking network.

3. Control Point computers hosting the Federal Signal Commander Software can now connect to a P25 trunked land mobile radio interface via an ethernet connection.

4. Control Point computers hosting the Federal Signal Commander Software can connect directly to siren sites using Conventional mode.

5. Motorola APX radios support mixed mode operation, to enable legacy MSK operation until all equipment is installed before switching to P25 digital.



For more information on a P25 integration, visit http://www.alertnotification.net/product/sfcd-federal-commander-digital-system or contact the Federal Signal Techincal Support Team at 1-800-524-3021,  techsupport@fedsig.com.



About Federal Signal Integrated Systems Division

Federal Signal's Integrated Systems Division is a leader in designing and implementing integrated safety and security solutions for communities and facilities around the world.  For more information regarding Federal Signal's product line visit: http://www.alertnotification.net.



About Federal Signal

Federal Signal Corporation (NYSE: FSS) provides products and services to protect people and our planet. Founded in 1901, Federal Signal is a leading global designer and manufacturer of products and total solutions that serve municipal, governmental, industrial and commercial customers. Headquartered in Oak Brook, Ill., with manufacturing facilities worldwide, the Company operates three groups: Environmental Solutions, Safety and Security Systems, and Fire Rescue. For more information on Federal Signal, visit: federalsignal.com.



Media Contact: Gabriella Churchill | 708-534-7644 | gchurchill@federalsignal.com



Gabriella Churchill  l  Marketing Communications Manager

Federal Signal   l   2645 Federal Signal Drive  l  University Park, IL 60484

708.534.7644  l   www.federalsignal-indust.com



Federal Signal Alerting and Notification has a NEW website address: www.alertnotification.net

More from Construction Equipment and Supplies