Warehouse Optimization Services use OptiSlot DC™ software.
Press Release Summary: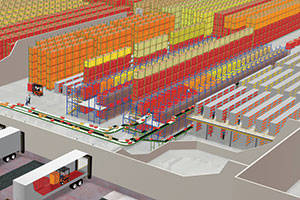 Warehouse Optimization Services are suitable for distribution environments and allows user to plan their product slotting. The slotting optimization software uses an advanced mathematical algorithm which considers product's dimensions, weight and velocity. Services help to solve operational challenges such as inefficient picking operations, product damage, excessive travel to pick orders and running out of warehouse space.
---
Original Press Release:
Optricity and Bastian Solutions Partnership Provides Advanced Warehouse Optimization Services
With mounting pressure on companies to fill, ship, and deliver product faster than ever before, it is critical to maximize facility space and labor activities. To capture that competitive edge, the consulting team at Bastian Solutions is leveraging, OptiSlot DC™ (OptiSlot), Optricity's advanced slotting optimization software, to provide customers with a more efficient, cost effective operation through optimal product slotting.
OptiSlot addresses the complexities of warehouse slotting by utilizing advanced mathematical algorithms. These algorithms consider a product's dimensions; weight and velocity; physical characteristics of the environment including slot configurations, pick path and material handling equipment; and operational goals like pallet building, seasonality requirements and retail groupings.
"As qualified labor is getting harder to find and more expensive, the need to reduce the work content of the distribution environment has become essential," stated Marvin Logan, Director of Consulting at Bastian Solutions. "Our customers have been relying on us for years to optimize their distribution environments, including ensuring that their product slotting plans are ideal for their operation. We have been doing the best job that we could with conventional tools and our own developed slotting products, but really felt like we needed to 'raise the bar'. So we did an extensive search for the best-of-breed slotting optimization software on the market. We believe we have found that with OptiSlot."
Bastian Solutions' consulting team will utilize its selected warehouse slotting technology, OptiSlot, to help customers address common operational challenges such as:
Inefficient picking operations
Running out of warehouse space
Demand for increased productivity
Inefficient space utilization
Product damage
Excessive travel to pick orders
Ergonomic challenges
"We look forward to working closely with the Bastian Solutions consulting team and helping customers meet and exceed their growing demands," stated Sheila Benny, Executive Vice President at Optricity. "By combining OptiSlot's advanced algorithms and patented processes with Bastian Solutions' expertise in facility layout and design, we can provide customers with enhanced operational performance, saving them time and money."
To learn more about Bastian Solutions' consulting services, visit: https://www.bastiansolutions.com/solutions/service/consulting-simulation
About Bastian Solutions
Bastian Solutions, headquartered in Indianapolis, Indiana, USA, is an independent material handling systems integrator with clients and offices around the world. Founded in 1952, Bastian Solutions has established itself as an innovator in the fields of material handling automation, supply chain software, industrial controls, and robotics. The company includes 17 domestic offices as well as 8 international offices across Australia, Brazil, Europe, Canada, India, and Mexico. For more information, visit https://www.bastiansolutions.com.
About Optricity
Optricity creates and supports warehousing analysis, optimization and performance improvement software. To develop its solutions, including the highly acclaimed warehouse slotting application, OptiSlot DC™, Optricity utilizes a blend of warehousing domain expertise, advanced mathematics and software engineering skills.
The Platform of planning solutions includes slotting, profiling, integration, simulation, @Ease Warehousing Technologies™ and the Conductor for warehousing operations. For more information about Optricity, please visit https://www.optricity.com.
More from Services