Warehouse Management Software increases operational efficiency.
Press Release Summary: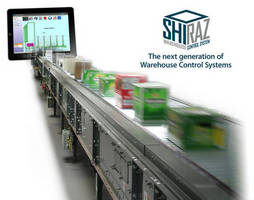 Shiraz orchestrates material and information flow to order fulfillment technology and material handling equipment, providing real-time operations intelligence into warehousing processes. Offering visibility and control from any location, warehouse control system (WCS) maximizes system throughput and performance while utilizing most efficient methods for pallet, case, and item routing. Also included, intelligent wave release allows grouping of orders by common functionality.
---
Original Press Release:

W&H Systems Introduces Next Generation Warehouse Control System



Increased Visibility & Control of Material Handling Processes Removes Inefficiencies in Warehouse



Carlstadt, NJ – W&H Systems, Inc., a full-service integrator of material handling systems that improve fulfillment operations and maximize warehouse efficiency, announces its next generation warehouse control system (WCS), named Shiraz. The new W&H Systems WCS offers increased visibility and control of processes from any location, better coordination of equipment control for higher throughput, and optimizes material handling systems for improved performance.



"Next generation warehouse control systems have expanded in functionality where they primarily served as the interface between the warehouse management system (WMS) and automated devices. Now they handle tasks that were customized in the WMS, such as order fulfillment, wave management, and planning," said Rudi Lueg as Director of Technology of W&H Systems. "W&H Systems next generation WCS is extremely flexible to handle the dynamic, fast-paced operations within a warehouse. Consumers want their orders now and a WCS can help increase service levels, while lowering costs by eliminating the need to ship products overnight."



W&H Systems Warehouse Control System orchestrates material and information flow to order fulfillment technology and material handling equipment, providing real-time operations intelligence into warehousing processes. Key capabilities include relieving a customer host computer of managing a real-time material handling automation interface; maximizing system throughput and performance while utilizing the most efficient methods for pallet, case and item routing; and intelligent wave release, allowing the grouping of orders by common functionality to make order fulfillment as efficient and minimize bottlenecks.



W&H Systems next generation WCS provides:



• Improved visibility into operations in real-time allows managers to monitor equipment performance, facilitate troubleshooting, and keep downtime to a minimum.

• Advanced wave and planning.

• Generates real-time views of distribution center performance from any location via mobile devices.

• Flexibility to quickly respond to changes needed or alerts from high-speed equipment.

• Reliability with consistent access to real-time data to improve response times and adaptability.

• Easy integration with a variety of equipment and systems.

• Advanced diagnostic and reporting tools for instant problem solving and trend analysis.

• Streamlined execution of warehouse processes for greater efficiency and throughput.

• Ability to run on iPads and tablet PCs so people can easily audit product locations and analyze what-if scenarios.

• Scalability and Flexibility to grow as your operations grow.

• Lowers costs by eliminating the need for a full-blown WMS.



The new WCS drives continuous operational improvement with unfettered visibility into warehouse operations, delivering actionable intelligence to perfect fulfillment operations.



About W&H Systems, Inc.

W&H Systems, one of America's most experienced integrators of automated material handling systems, specializes in optimizing the flow of merchandise through warehouses while minimizing labor and maximizing space utilization. Our wide range of equipment utilized in our material handling systems includes conveyor systems, warehouse control systems, high-speed carton and unit sortation, AS/RS, GOH systems, palletizers, paperless picking and packing systems, other commodity equipment and specially designed equipment which complements our material handling system designs. By providing the "Total Solution" (needs assessment, design, software, equipment, implementation, commissioning and support), W&H insures innovative solutions today, for tomorrow's requirements. W&H has vast experience serving manufacturers, wholesalers, retailers and logistic providers for the consumer goods and wine & spirits industries, such as Oriental Trading Company, Dick's Sporting Goods, Burberry USA, Empire Merchants, Recreational Equipment, Inc., Jos. A. Bank Clothiers, Wirtz Beverage, Armani Exchange, and Belk's.  For more information, visit http://www.whsystems.com.



Becky Boyd

VP, MediaFirst

415 State Street, Roswell, GA  30075 USA

O: (770) 642-2080 x 214

C: (404) 421-8497

becky@mediafirst.net

More from Packaging Products & Equipment