Warehouse Management Software features scalable design.
Press Release Summary: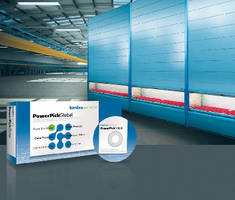 Configurable for single workstation as well as multiple work zones, Power Pick® Global v4.0 maximizes accuracy and efficiency of AS/RS, including Shuttle® Vertical Lift Modules, Megamat® vertical carousels, and horizontal carousels. Base package, KeyTech, provides storage and retrieval of goods, stock management, space management, reporting, and management of user rights. Add-on options include batching, kiosk storage, label printing, SAP integration, serial number handling, and weight management.
---
Original Press Release:

Power Pick Global 4.0 Now Available in North America



Kardex Remstar, LLC announces the release of Power Pick Global 4.0 Warehouse Management Software in North America. Power Pick® Global, formerly known as FastPic Inventory Management Software, increases accuracy, efficiency, security and flexibility in automated storage and retrieval solutions including Shuttle® Vertical Lift Modules, Megamat® vertical carousels and horizontal carousels.



Power Pick Global 4.0 can be configured for a single workstation as well as manage multiple work zones. It's scalable design can match customer needs today and well into the future. Offered as a base package, KeyTech, with multiple add-on options, Power Pick Global can be customized to meet the exact needs of each application.



The base package, KeyTech, provides simple storage and retrieval of goods, stock management, space management, simple reporting and easy management of user rights. Over 25 additional a la carte options include advanced reporting, batching, kiosk storage, label printing, SAP integration, serial number handling, weight management, zone handling and more!



For convenience, three pre-configured applications are available: Cleverstore 1000 (for basic storage and retrieval with visual location searching), Smartpick 5200 (for electronics order picking), Smartpick 6000 (for high throughput order picking).



From standard validation via barcode to weight control to a variety of pick to light technology, Power Pick Global adds greater accuracy to the operation. Integrating light directed picking technology, such as TIC, laser pointer or batch light into the process can increased accuracy up to 99.9%.



Power Pick Global increases efficiencies by lowering processing times. Batch picking, multi order picking and time optimized movement of storage systems minimizes turnaround times and increases throughput.



User and group rights can control access to the system and to storage locations. Power Pick Global also logs every transaction by user for complete transparency.



With maximum flexibility, it's only a few clicks for custom reports, to create an on screen list, add an additional material information field, or to save new data on the fly. It's even possible to easily adapt the appearance of software.



Kardex Remstar, LLC, a company of the Kardex Group is a leading provider of automated storage and retrieval systems for manufacturing, distribution, warehousing, offices and institutions. For more information about our dynamic storage solutions, call 800-639-5805 or visit www.kardexremstar.com.



Kardex Remstar Media Contact:

Christina Dube, Marketing Communications Manager, 207-591-3168

christina.dube@kardexremstar.com



For more articles and high resolution photos please go to http://MediaCenter.kardexremstar.com