Warehouse Control System helps process 2,000-4,000 orders/day.
Press Release Summary: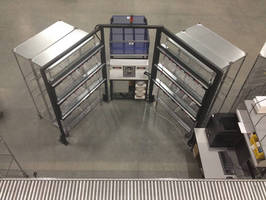 COFE™ Starter Kit provides fully functional base version of COFE (Continuous Order Fulfillment Enterprise), which processes orders within distribution center using waveless approach. Modules may be added as needed to integrate pick/put-to-lights, sortation systems, automated storage and retrieval systems, conveyors, additional RF users, and additional user licenses. Customizable program is capable of directing material handling machines, devices, people, and processes.
---
Original Press Release:

NEW COFE(TM) Starter Kit from VARGO® Designed for Warehouse and Distribution Operations Processing 2,000 - 4,000 Orders Per Day



HILLIARD, OH – VARGO is now offering a Starter Kit version of its powerful COFE warehouse control system.  COFE is an acronym for Continuous Order Fulfillment Enterprise and is the first warehouse control system that processes orders within a distribution center using a waveless approach.  Available exclusively from VARGO, COFE is a modular, customizable program capable of directing not only material handling machines, but also devices, people and processes.  It integrates and synchronizes direct-to-consumer DC workers with the operation of the equipment to pull orders through distribution centers.



The COFE Starter Kit is a fully functional base version of COFE, with the ability to integrate additional modules as needed.  Modules may be added to integrate pick/put-to-lights, sortation systems, automated storage and retrieval systems, conveyors, additional RF users, and additional user licenses.



The Kit includes a fully functional demand driven order fulfillment system with COFE VIEW dashboarding and visualization, eight users by functional area (pick, assemble, pack and ship), and a streamlined implementation process.



It is designed for warehouse and distribution operations that process between 2,000 and 4,000 orders per day, or approximately 134,000 units per week.  The Starter Kit version allows these smaller operations to take advantage of the same efficiency related benefits as larger operations which have taken advantage of mechanizing some of their processes.



About VARGO

VARGO® is a team of fulfillment and distribution center specialists with expertise in systems integration, DC process improvement, and specialized material handling equipment. For over four decades, we have been working with retailers, manufacturers, wholesale and direct-to-consumer distributors to improve material handling operations and move beyond traditional distribution methodologies.  VARGO® is at the forefront of the lean distribution movement and is the only company that offers COFE™ (Continuous Order Fulfillment Enterprise) software, the tool that makes true lean distribution possible.



VARGO® Headquarters

3709 Parkway Lane

Hilliard, OH  43026

(614) 876-1163

FAX: (614) 876-0706

www.VargoSolutions.com  

More from Agricultural & Farming Products