WALLAdesk Folding Desks come with durable steel frames.
Press Release Summary: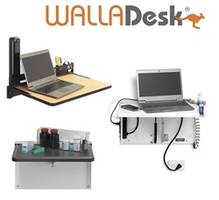 Available in Mini, Charge™ and Original models, WALLAdesk Folding Desks are suitable for use in patient rooms, corridors, laboratories and dialysis clinics. Mini WALLAdesk offers a workspace of 16-7/8 W x 10-5/8 in. D and has a grooved perimeter. Featuring built-in power strip, WALLAdesk Charge comes three AC outlets and two USB ports, 6 ft cord, tablet stand and laptop security table. Original consists of steel retention bar with storage compartments.
---
Original Press Release:
Carstens Launches Two New Wall-Mounted Desks for Medical Facilities
Carstens, Inc. has announced the release of two new wall-mounted folding desks to their WALLAdesk® product line: the Mini WALLAdesk™ and the WALLAdesk Charge™. WALLAdesk units from Carstens can be used in many different environments as a laptop or tablet work surface, a space-saving side table, or a platform to prepare medications and take notes. All three versions of the WALLAdesk are so space efficient they can be mounted anywhere a work surface is needed, from patient rooms, corridors, laboratories, dialysis clinics to exam rooms and more. WALLAdesk wall-mounted folding desks combine the best in space utilization, style and durability.
The Mini WALLAdesk is the smallest of the WALLAdesk family, making it ideal for clinicians to use while preparing medications or taking notes when space is limited. It protrudes less than 3" from the wall when closed, yet gives the user a 16-7/8" W x 10-5/8" D work surface when the desk is lifted.
The WALLAdesk Charge is Carstens' most innovative WALLAdesk with a built-in power strip and 20″ W x 12-3/16″ D folding work surface. It is a valuable furniture piece to add to a patient room or waiting room area because it provides a place for patients and their visitors to simultaneously charge cell phones and other electronics while having access to a work surface. It can also be used by clinicians to charge the laptops and tablets they use for patient charting at the point-of-care.
The Original WALLAdesk has been a popular Carstens product since its launch in 2012. It has a 23-1/2″ W x 14″ D work surface, larger than the Mini WALLAdesk and WALLAdesk Charge, and is less than 3" deep when folded. It includes a custom engineered retention bar, great for storing charts behind the work surface, and has built-in compartments for dry erase accessories to use with the optional whiteboard front, pens, notepads and other small items. It is excellent for use as a PC or tablet work surface, at the nursing station for physicians or as a message center in private rooms.
Product Features: All WALLAdesk units have a non-porous, easy-to-clean work surface. They also have durable steel frames that are manufactured with pre-drilled holes for easy mounting to wall studs. Each has unique features.
Mini WALLAdesk: The work surface automatically locks into place when lifted and lowers with a squeeze of a lever. It has a grooved perimeter to prevent objects from rolling off and spills from dripping off the desk.
WALLAdesk Charge: The work surface automatically locks into place when lifted and lowers automatically and quietly with a slight lift of the work surface. It includes a built-in power strip with surge protection and a six-foot cord. The power strip includes three (3) AC outlets and two (2) USB ports. Accessories can be added such as Carstens' hand sanitizer holder, tablet stand and laptop security cable. The WALLAdesk Charge also has a grooved perimeter.
Original WALLAdesk: The work surface quietly lowers and locks into place. It includes a steel retention bar with storage compartments behind the work surface.
The Right Combination
When used together at the point-of-care, a WALLAdesk and Carstens' MEDIroo™ Lock Box create a space saving workflow solution that aims to improve clinicians' proximity to patients and allows them to more easily respond to patient needs. The WALLAdesk can be installed under a MEDIroo Lock Box to be used as a work surface for prepping medications or supplies that are stored in the lock box above. The combination can effectively replace casework and bulky counters that take up a significant amount of space.
Pricing and Availability
The Mini WALLAdesk, WALLAdesk Charge and Original WALLAdesk are available directly from Carstens. Visit their website http://www.carstens.com or call a customer service representative at 1.800.782.1524.
About Carstens, Inc.
Carstens is a leading provider of healthcare support products — serving thousands of medical and healthcare facilities nationwide. From traditional patient record systems to electronic health record (EHR) support products, wall-mounted to mobile units, Carstens offers custom solutions designed to increase productivity and enhance interaction at the point-of-care. Carstens is a Certified Woman-Owned Small Business that manufactures all products in the USA at their headquarters in Chicago, IL. Carstens prides itself on being able to offer customers factory direct pricing and excellent customer service. Further information about Carstens, Inc. can be found at http://www.carstens.com.
More from Cleaning Products & Equipment