Wall Switch Access Point targets hospitality market.
Press Release Summary: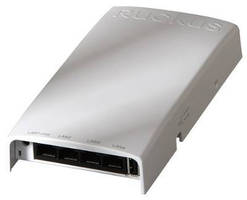 Using BeamFlex™ adaptive antenna technology, ZoneFlex™ H500 2x2:2 Access Point delivers high-speed 802.11ac Wi-Fi in low-profile design that can be discretely installed in wall junction box. Dual-band unit has 4 Ethernet ports for in-room access, enabling connection of wired network devices such as IPTV set top boxes, VoIP telephones, or networked minibars. PoE port allows devices to be powered directly from wall switch, and ZoneFlex H500 itself may be powered via PoE or DC power adapter.
---
Original Press Release:

Ruckus Wireless Continues Hospitality Wi-Fi Leadership with Launch of ZoneFlex H500 802.11ac Wall Switch



Marriott Hotels Franchise in Southeastern U.S. One of the First of Several Major Hotel Chains Around the World to Deploy Ultra-sleek, Low Profile, Smart Wi-Fi Technology



SUNNYVALE, Calif., – Ruckus Wireless, Inc. (NYSE: RKUS) announced today the launch of the new Ruckus ZoneFlex™ H500 2x2:2 dual-band (2.4 and 5 GHz) 802.11ac indoor wall switch access point (AP), the industry's first wired and wireless wall switch that uses Ruckus patented BeamFlex™+ adaptive antenna technology to deliver high-speed 802.11ac Wi-Fi in an ultra-sleek, low-profile design that can be quickly and discretely installed in a standard wall junction box. Ideal for offering converged services in hotel guest rooms, student residences, and multiple dwelling units (MDUs), the ZoneFlex H500 provides an easy way to offer multiple connections into a single room without multiple cables.



Equipped with four Ethernet ports for in-room access, the Ruckus ZoneFlex H500 can be used to connect a range of wired network devices such as IPTV set top boxes, VoIP telephones, or networked minibars. An IEEE 802.3af-compliant Power-over-Ethernet (PoE) port on the ZoneFlex H500 allows devices such as IP telephones to be powered directly from the wall switch, and the ZoneFlex H500 itself may be powered via PoE or DC power adapter. The ZoneFlex H500 requires just a single POE cable drop, reducing cabling, switch ports and power sourcing equipment, and it easily mounts to worldwide standard electrical outlet boxes (single-gang wall-plate width, 3.5 x 6.3 x 1.2 inches).



Sean Miller is the corporate director of IT for Point Clear Holdings (PCH) Hotels & Resorts, a unique Hospitality Management Organization that operates eight luxury Marriott and Renaissance Hotels in Alabama, which represent the Resort Collection on The Robert Trent Jones Golf Trail located throughout the state. With the help of Ruckus Big Dogs partner and systems integrator Guest-tek, PCH is deploying new Ruckus ZoneFlex H500 wall switches at the 405-room Grand Hotel Marriott Resort, Golf Club & Spa in Point Clear, AL, their flagship property, installing an H500 in every other guest room, which provides excellent coverage for all 405 guest rooms.



"These new wall switches from Ruckus are perfect," said Miller. "They don't require any recabling, and are very cost-effective. We have Ethernet installed in every room, but have found the H500's performance to be so exceptional that we didn't need to install one in every single room, which is saving us time, money, and effort."



PCH has already installed Ruckus ZoneFlex T300 Series outdoor 802.11ac access points to provide coverage in and around the Grand Hotel pool area, and ZoneFlex R700 3x3:3 802.11ac indoor access points for coverage in other public areas inside the Hotel, including the lobby, etc.



Ruckus ZoneFlex H500 is Very Hospitable--Purpose-Built for Hotels



The Ruckus ZoneFlex H500 features a very sleek and lightweight yet secure design, which helps ensure a low profile, and offers front port access, which eliminates unsightly cabling and disruptive furniture placement inside hotel rooms. With dimensions of 171mm (h) x 90mm (w) x 29mm (d) and weighing less than half a pound (210g), it is very inconspicuous, minimizing the protrusion off walls to make in-room cabling and furniture arrangement simple. Cable channels on the back of the H500 allow legacy cabling, (e.g., for PBX telephones), to exit the wall junction box with the access point mounted. The ZoneFlex H500 can be deployed as a standalone device or centrally managed by Ruckus ZoneDirector™ controllers, the Ruckus SmartCell™ Gateway (SCG) 200 and virtual SmartCell Gateway (vSCG).



Patented Ruckus BeamFlex+ technology is designed to enable the ZoneFlex H500 to transmit Wi-Fi signals in the best direction for each client device, which means more client device locations throughout a hotel guestroom receive the signal-to-noise ratio (SNR) required to achieve the highest possible 802.11ac throughput rates. By using dual polarized antennas to adapt to mobile client device orientation, the ZoneFlex H500 increases signal strength reception by up to 3x. BeamFlex+ "hears" clients on both horizontal and vertical antenna polarizations, and compensates for device orientation-something ideal for mobile devices, and affords hotels the flexibility to mount the ZoneFlex H500 in any orientation without negatively impacting performance. The Ruckus ZoneFlex H500 also supports SmartMesh Networking, for additional deployment flexibility.



In addition to deploying the Ruckus H500, Miller says they will also be replacing a legacy HP system in the Hotel's conference center with Ruckus ZoneFlex R700 APs.



Miller concludes, "It is quite an investment to deploy new wall switches, which is why we chose Ruckus. The H500 is aesthetically pleasing and cost-effective, yet delivers the high-performance, high-capacity 802.11ac Wi-Fi we want to provide to our guests now, and for years to come. The H500 wall switch is awesome--it doesn't require a lot of management--it just works. We believe it's a very smart choice for PCH and our guests at the Grand Hotel."



Pricing and Availability

Available this month throughout North America and most parts of Europe (ETSI), and in Q2 2015 in China, APAC, and other parts of the world, the new Ruckus ZoneFlex H500 Wi-Fi 802.11ac indoor wall switch has an MSRP of $365 (USD), and is available through authorized Ruckus Big Dog resellers worldwide.



ABOUT RUCKUS WIRELESS

Headquartered in Sunnyvale, CA, Ruckus Wireless, Inc. (NYSE: RKUS) is a global supplier of advanced wireless systems for the rapidly expanding mobile Internet infrastructure market. The company offers a wide range of indoor and outdoor "Smart Wi-Fi" products to mobile carriers, broadband service providers, and corporate enterprises, and has over 48,000 end-customers worldwide. Ruckus technology addresses Wi-Fi capacity and coverage challenges caused by the ever-increasing amount of traffic on wireless networks due to accelerated adoption of mobile devices such as smartphones and tablets. Ruckus invented and has patented state-of-the-art wireless voice, video, and data technology innovations, such as adaptive antenna arrays that extend signal range, increase client data rates, and avoid interference, providing consistent and reliable distribution of delay-sensitive multimedia content and services over standard 802.11 Wi-Fi. For more information, visit http://www.ruckuswireless.com.



BeamFlex, Ruckus, Ruckus Wireless, SmartCell, ZoneDirector, and ZoneFlex are trademarks of Ruckus Wireless, Inc. in the United States and other countries. All other product or company names may be trademarks of their respective owners.



Media Contact

Mark Priscaro

Ruckus Wireless

mark.priscaro@ruckuswireless.com

925-367-5505



Web Site: http://www.ruckuswireless.com



More from Mechanical Power Transmission