Wall Plates have screwless design.
Press Release Summary: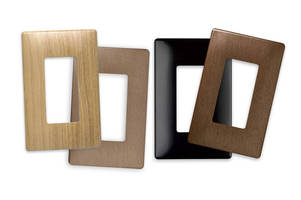 Available with solid color wood or metallic finishes, Screwless Wall Plates can be matched with furniture, floors, and cabinets as well as fixtures and appliances. Flexible construction conforms to uneven drywall, and 2-piece, non-conductive polycarbonate subplate facilitates quick installation. Plates are available in Decorator 1-, 2-, 3-, and 4-gang plates, and in brushed nickel, brushed copper, stainless steel, brushed brass, brushed bronze, walnut, maple, and mahogany colors.
---
Original Press Release:

P&S Decorative Finish Screwless Wall Plates Enrich Any Room's Appearance



SYRACUSE, N.Y. (January 26, 2009) - Pass & Seymour/Legrand (P&S), a leading provider of electrical wiring devices and home systems, announces an elegant new selection of Screwless Wall Plates. The smooth, no-visible-fasteners look of P&S's solid-color offering is combined with a range of stylish finishes, for a flawless design that installs quickly and easily.

With P&S Decorative Finish Screwless Wall Plates, remodelers and builders can choose from today's hottest styles. Match furniture, floors and cabinets with the look of rich wood, or choose from exciting metallic finishes to match fixtures, appliances and decorative accent pieces.

The durable, flexible construction conforms to uneven drywall, and a 2-piece, non-conductive polycarbonate subplate speeds installation. There's no device removal needed - just loosen the device mounting screws, and the subplate clicks together around them.

"Our design provides an elegant, unblemished finish, with no dirt-catching channel around the plate's perimeter," said Keith Falkenberg, product manager at P&S. "The wall plates are an excellent value and a great upgrade to any room."

The Decorative Finish Screwless Wall Plates are available in Decorator one-, two-, three- and four-gang plates. Colors include brushed nickel, brushed copper, stainless steel, brushed brass, brushed bronze, walnut, maple and mahogany.

For more information about the new Decorative Finish Screwless Wall Plates, contact your P&S representative or visit www.passandseymour.com.

Pass & Seymour/Legrand is a leading provider of electrical wiring devices, home systems and accessories in North America. For more information, call 1-800-776-4035 or visit www.passandseymour.com.

About Legrand

Legrand is the global specialist in products and systems for electrical installations and information networks where people live and work. Its comprehensive offering of solutions for use in commercial, industrial and residential markets makes it a benchmark for suppliers worldwide.

Innovation for a steady flow of new products with high added value is a prime vector for growth. Backed by sound business and financial structures, Legrand is actively expanding its presence in fast-growing geographical zones and market segments that include lighting controls, energy savings and home automation, through a sustained stream of targeted, self-financed acquisitions and other initiatives. In 2007 Legrand employed 35,000 people around the globe and reported sales of 4.1billion, including 25% in emerging markets. The company is listed on Euronext Paris and is a component stock of indexes including the SBF120, FTSE4Good and MSCI World (ISIN code FR0010307819). www.legrandelectric.com

More from Fluid & Gas Flow Equipment