Wall Colmonoy Aerobraze Engineered Technologies OKC Awarded USAF Contract for Overhaul of F-16 Primary and Secondary Heat Exchangers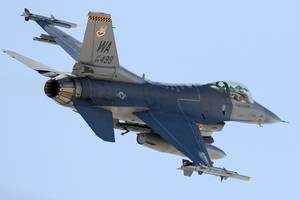 Wall Colmonoy's Aerobraze Engineered Technologies, Oklahoma City, announced that it has won a full and open competition conducted by the United States Air Force for a multi-year, multi-million dollar contract for the overhaul of the F-16 Primary and Secondary Heat Exchangers. The F-16 has dominated the skies for over 30 years as a multirole and air superiority fighter in service in over 25 countries.
Brian Martin, General Manager for Aerobraze Oklahoma City, stated, "As a major manufacturer and overhauler of heat exchangers for the USAF for over 33 years, it is with great pride that we continue to provide support to the United States Air Force. This new award demonstrates our ongoing commitment to increasing efficiency and cost savings for our customers, through extending the life of critical components for the aerospace industry."
Wall Colmonoy developed high temperature furnace brazing, which is used extensively in the heat exchanger manufacture and overhaul processes. Having pioneered the very first heat exchanger overhaul procedures, Wall Colmonoy continues to deliver significant cost savings and performance improvements to the United States Air Force.
About Aerobraze Engineered Technologies
Aerobraze Engineered Technologies, a division of Wall Colmonoy, manufactures engineered components and provides technological solutions for aerospace, defense, energy, and transportation industries.
The division meets aerospace quality standards in applications using the process of brazing, surfacing, welding, thermal processing, fabricating, machining and overhauling.
Quality standards include: ISO9100, AS9100 Revision C, EASA.145.6085, Nadcap approvals for brazing, heat treat, welding, coating, NDT and chemical processing, along with FAA-Repair License. An FAA-DER is on staff to support customer engineering requirements.
Aerobraze Engineered Technologies has built a reputation over 50 years for design to manufacturing of engine-ready components and offers customers the kind of trusted, customized expertise that results in smart innovation and shared growth. More information can be found at www.wallcolmonoy.com/aerobraze.
Contact:
Jonathan Thompson,
Marketing Assistant,
+1 405-672-1361 x14
4700 S.E. 59th Oklahoma City, OK 73135
Tel 405-672-1361
Fax 405-670-3763
Web www.wallcolmonoy.com/aerobraze
Email aet@wallcolmonoy.com
More from Communication Systems & Equipment