Walkie Pallet Truck maneuvers in tight spaces.
Press Release Summary: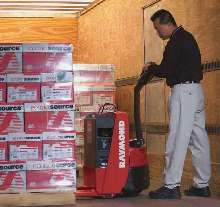 Equipped with ergonomic handle, 102XM performs 180° pinwheel turns for right-angle stacking and loading/unloading of trucks as narrow as 96 in. in warehousing and local delivery operations. Direction and speed are controlled with thumb wheels, allowing one-handed operation for forward, reverse, lift, lower, and horn. Features include 4,500 lb capacity, travel speeds of 3.4-3.8 mph, and loaded lift/lower time of 3.9 sec. Electric brake provides anti-roll protection.
---
Original Press Release:

New Walkie Pallet Truck Maneuvers in Tight Spaces


GREENE, N.Y.- The new 102XM walkie pallet truck from The Raymond Corporation is highly maneuverable in tight spaces such as crowded loading docks, congested warehouse aisles and inside trailers.

With reduced head length, a new fork profile, and a unique handle that can be moved to a nearly vertical position, the 102XM easily performs the 180 degree "pinwheel" turns needed for right angle stacking and loading/unloading trucks in warehousing and local delivery operations. Its innovative, compact design allows the 102XM to efficiently stack pallets at right angles inside a 96-inch wide trailer.

The new ergonomic handle provides smooth, comfortable control as the operator walks. Whether traveling tractor-first or forks-first, the truck's direction and speed are controlled with convenient thumb wheels. This allows one-handed operation for forward, reverse, lift, lower or horn. Easy-to-read displays on the handle include the battery discharge indicator, hour meter and maintenance code display. The handle also includes a keypad for programming the truck's performance to fit up to 10 different operator skill levels or applications - set slower speeds for new operators and high-performance speeds for experienced operators.

"Efficient maneuvering and simple, ergonomic controls make the 102XM a very productive truck," says Jeff Leggett, marketing director for counterbalance and walkie pallet truck products at The Raymond Corporation. "And it's extremely cost effective, so it fits in even the tightest budget."

With a 4,500-lb. capacity, the 102XM has an empty travel speed of 3.8 mph, loaded travel speed of 3.4 mph and loaded lift/lower time of 3.9 seconds. The standard package allows the truck to operate in temperatures above 32° F (0° C). An optional cold storage conditioning package enables the 102XM to operate in temperatures as low as -13° F (-25° C). Two battery compartment sizes, 7.8 and 9.0 inches, are available.

The 102XM's rugged, durable construction includes a wraparound steel bumper to protect the drive unit and drive tire. Its unique control system enables the 102XM to climb over floor obstructions and tailgates without lurching or stalling. An electric brake provides built-in anti-roll protection. All main service points are accessed by simply removing the cover, so there is no need for hoisting or jacking. This reduces service time and increases uptime.

The Raymond Corporation is the leading North American provider of materials handling solutions that improve space utilization and productivity, with lower cost of operation and greater operator acceptance. High-performance, reliable, ergonomically designed Raymond® products range from a full line of manual and electric pallet trucks and walkie stackers to counterbalanced trucks, Reach-Fork® trucks, orderpickers and dual-purpose (pallet handling/case picking) Swing-Reach® trucks.

For additional information about The Raymond Corporation, or to locate a Raymond Dealer, visit the company Web site at www.raymondcorp.com or call 1 (800) 235-7200. Raymond®, Reach-Fork®, Deep-Reach®, and Swing-Reach® and Above. And beyond® are registered trademarks of The Raymond Corporation.


More from Material Processing