Walkie Electric Tug Reduces Risk of Push/ Pull Injuries in Mail Handling Facility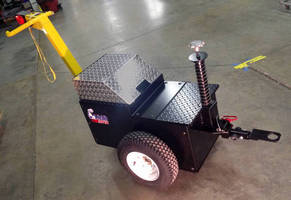 "An accident or injury waiting to happen." That is what the general manager of a local mail handling facility envisioned when auditing the work floor of his facility for areas of ergonomic concern. With an aging workforce, male and female, and an average age of 55 years, reducing the chance of strains of the back, arms and shoulders due to push/pull injuries had become a priority. Steps had been taken to alleviate the need for manual material handling but there were still areas in the facility in which the workers had few options. Heavy mail carts weighing upwards of 1400 lbs. were typically pulled with large rider tugs. However, due to narrow aisles the rider tug was not an option to tow the mail carts along the 150-foot long path. The workers struggled with manually maneuvering the heavy carts by hand, which heightened the risk of injury. The manager knew that pushing and pulling are cited by OSHA as two of the five main repetitive movements that lead to long-term injury.



While searching for a solution, the GM contacted Load Mover Inc. to investigate the available alternatives. He found that a Load Mover walkie tugger seemed to address all the concerns he had regarding the current unsafe situation. A Load Mover electric tug is a self-contained, battery powered, walk-behind power mover that aids production personnel in moving heavy carts. The unit specified was smaller and more maneuverable than the riding unit. The Load Mover is easy to operate and training is minimal. Production personnel can maneuver the carts through the facility with little effort. Load Mover engineers evaluated the application and recommended the Load Mover Xtra-400 with Manual 5th Wheel. The 5th Wheel assembly engages and holds the vertical pipe located on each mail cart.



About the Manufacturer:

Load Mover Inc. based in Bloomington MN, is a designer and manufacturer of battery-powered material handling equipment that is used in industrial environments. Each Load Mover is designed to be Safer, Smarter, and Stronger, than other "Powered Tugs" in the market. Safety features are "Standard" and not options. A "Smarter" design makes it easier for the operator to move the load. The "Push/Pull" ability of the Load Mover allows the operator to do more work with less effort. Production personnel can work all day with less energy exerted to increase job satisfaction and employee retention.





More from Mechanical Components and Assemblies