Wahoo Goes Digital with Raymarine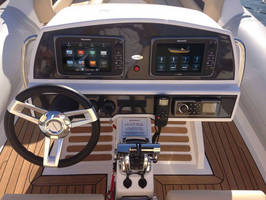 Raymarine supplies complete navigation and control system for Wahoo RIBs' flagship LX600



December 2013 – Wahoo RIBs has chosen Raymarine to supply a complete navigation and control system for its luxurious new flagship, the Wahoo LX600. Based on a race-winning design from the great naval architect Lorne Campbell, the LX is described as the ultimate grand tourer of the oceans; capable of carrying 12 people at speeds of up to 60 knots. Launched at Cannes and Monaco, the LX600 sleek new design is an exercise in minimalism; the carbon console carries two Raymarine e-Series MFDs (multi-function displays) that provide touch screen navigation, engine instrumentation, and audio entertainment controls. The e-Series MFDs also integrate with the LX600's on-board electrical systems. Lighting, bilge pumps, battery monitoring, even auto-inflation and deflation of tubes are controlled via the e-Series Digital Switching app, giving LX600 owners simple touch screen control of the vessel's electrical devices.



Paul Holland, joint owner of Wahoo RIBs, says, "The LX600 is a high-performance luxury RIB, handcrafted in the UK to give the highest standards of comfort and performance. We design specifically for the superyacht market where nothing is mediocre. Raymarine can provide us with the complete navigation and control package; seamless integration, stylish design, cutting edge technology, all supported by a global onboard 3 year warranty for the equipment and installation - perfect for our discerning customers and unique in our sector."



Harry Heasman, Raymarine's UK Sales Manager, says he is delighted that Wahoo RIBs chose Raymarine for the new Wahoo LX600. "Raymarine is working hard to help boat manufacturers by simplifying equipment installation and integration. It's easy for a manufacturer to specify a complete Raymarine package and, once the boat goes into production, then have that same package supplied for each subsequent hull module, reducing labour costs and installation times. Wahoo's LX600 is a stunning RIB and the advances in Raymarine technology and integration allows the equipment to be fitted to her to great effect, enhancing both her looks and lines."



The first Wahoo was launched in 2008 and quickly proved a big hit with the media and the discerning owners of some of the world's finest superyachts. Wahoo has six models in its range today. The LX600 is the first RIB to use a Raymarine complete navigation and control system with digital switching.



About Raymarine:



Raymarine, leading marine electronics manufacturer, develops and manufactures the most comprehensive range of electronic equipment for the recreational boating and light commercial marine markets. Designed for high performance and ease of use, the award-winning products are available through a global network of dealers and distributors.



The Raymarine product lines include radar, autopilots, GPS, instruments, fishfinders, communications, and integrated systems. Headquartered in Fareham UK, Raymarine is a division of FLIR Systems, a world leader in thermal imaging. For more information about Raymarine please go to www.raymarine.com.



About FLIR Systems:



Pioneers in all aspects of infrared technology, FLIR designs, manufactures, and supports thermal imaging systems and subsystems for industrial, scientific, government, commercial, and firefighting applications. With almost 50 years of history in infrared innovation, over 100,000 systems in use worldwide, and development centres and sales offices in over 60 countries, FLIR is the world leader in thermal imaging technology. Visit the company's website at www.FLIR.com.

More from Agricultural & Farming Products