WAGO Releases ProServe 5.2 Application Development Software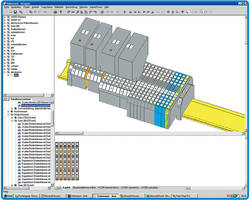 GERMANTOWN, WI - April 2009 - WAGO Corporation announces the release of version 5.2 of its popular ProServe product development software suite.

"ProServe has always been a professional cost-saving tool, not merely a product catalog," said Darrick Rejret, ProServe Product Manager. "Version 5.2 adds to that functionality with a new range of products and enhanced tools. And it is still free!"

Among the additions to the 16,000+ products of ProServe 5.2's 'productLOCATOR' are those in the SPEEDWAY (Series 767) range of modular IP 67 I/O automation products. For this range, ProServe 5.2 has an array of diagnostic tools that allows the user to define input and output loads as well as to check potential current and compatibility.

ProServe 5.2's smartMARKING outputs to an IP 350 flexible plotter, thermal transfer printer (including the new TP 343+), engraver or to PDF/HTML formats. For integration into existing projects, ProServe 5.2 imports projects from previous ProServe versions and can convert legacy items for ROHS compliance. Wire marking capability is also included.

WAGO is the leader in spring pressure connection technology that eliminates loose wires resulting from vibration and temperature cycling, while providing highly reliable, corrosion-resistant and maintenance-free connections. Products: DIN-rail, PCB and chassis mount terminal blocks; signal conditioners; the WAGO-I/O-SYSTEM and more.

For more information contact WAGO at 1-800-DIN-RAIL or via e-mail at info.us@wago.com.