WAGO-I/O-SYSTEM for eXTReme Environments Earns C-UL-US Certification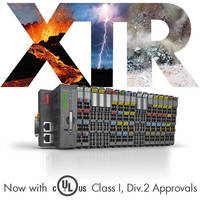 The 750 XTR Series is now C-UL-US certified for Class 1, Div.2 hazardous locations in Canadian and North American markets. These certifications are in addition to existing UL508, C22.2 No.42 and Germanischer Lloyd marine GL certification. The 750 XTR Series offers a modular, compact solution for automation architectures operating in extreme environments. Benefits include:



• Capacity to withstand temperatures ranging from -40 °C to 70 °C

• 5g vibration resistance and 25g shock resistance

• EMC isolation of up to 5 kV impulse voltages



The 750 XTR product line includes PLC's for stand-alone applications, couplers for distributed I/O, plus digital, analog and specialty I/O modules.



About WAGO:

WAGO is the leader in spring pressure connection technology that eliminates loose wires resulting from vibration and temperature cycling, while providing highly reliable, corrosion-resistant and maintenance-free connections.



For additional information, visit www.wago.us. Contact WAGO at 1-800-DIN-RAIL or info.us@wago.com.



More from Construction Equipment and Supplies