Wafer Scribing System offers alternative to diamond scribing.
Press Release Summary: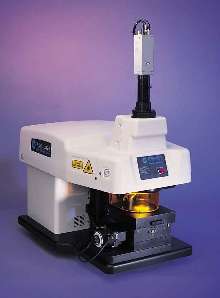 AccuScribe-SS20 laser-based sapphire wafer scribing system processes 350 x 350 µm dies on 50 mm wafers at rate of 40 minutes per wafer. Channel depth is 30 µm and channel width is 12 µm. System accommodates blue film expansion frames, performs both full and partial wafer scribing and features automatic edge detection capability. Positive pressure, vacuum venting debris control and removal system minimizes contamination on wafer surface.
---
Original Press Release:

New Wave Research Introduces AccuScribe-SS20 Sapphire Wafer Scribing System


Innovative System is Reliable, Cost-Effective Alternative to Diamond Scribing Technology

Fremont, Calif., October 1, 2002 - New Wave Research has introduced the AccuScribe-SS20 laser-based sapphire wafer scribing system. A cost-effective alternative to diamond scribing technology, the AccuScribe-SS20 produces clean, consistent scribe lines and features uniform depth control, resulting in a consistently superior yield for LED manufacturers.

"Unlike diamond scribers, which degrade quickly and need constant maintenance due to the hardness of sapphire, the AccuScribe-SS20 requires very little maintenance time," said Mohamad Fararjeh, product marketing manger for New Wave Research. "By employing this system, LED manufacturers will reduce the consumables required to scribe sapphire wafers and, with the accuracy and repeatability inherent in laser processing, will produce a consistently higher yield while seeing a significant reduction in operating cost."

The AccuScribe-SS20 processes 350- x 350-µm dies on 50-mm wafers at a rate of 40 minutes per wafer. Channel depth is 30 µm and channel width is ≤ 12 µm, easily falling within a 30-µm street. In addition, the system features outstanding repeatability-over a run of 500 wafers, it maintains a channel width of ±1 µm and a channel depth of +3/-0 µm.

"We see this as a disruptive technology," added Fararjeh. "Several major LED manufacturers in Asia have adopted the AccuScribe-SS20 as the system of choice for scribing sapphire wafers. And we're already starting to see repeat orders."

Ideal for the 24-hour, seven-day-per-week production environment, the AccuScribe-SS20 features a stable and robust design that allows for easy loading, unloading and alignment of wafers. It accommodates industry-standard blue film expansion frames, performs both full and partial wafer scribing and features an automatic edge detection capability. A positive pressure, vacuum venting debris control and removal system minimizes contamination on the wafer surface. A vacuum chuck maintains wafer flatness and ensures consistent laser focus and scribe depth during the operation.

To further simplify the scribing process, New Wave Research also provides a user-friendly software package that controls all laser parameters, alignment, stage positioning, and displays real time images of the scribing process.

Established in 1990, New Wave Research endeavors to lead in the creation, development and manufacture of high-quality, laser-based systems and modules for microelectronics and analytical instrumentation applications. For more information, contact Mohamad Fararjeh, product marketing manager, New Wave Research, 47613 Warm Springs Blvd., Fremont, Calif., 94539; 510/249-1550, 510/249-1551 (fax); e-mail: lasers@new-wave.com; Web: www.new-wave.com

Related