Wafer-Life Vibration Monitor features 450 mm form factor.
Press Release Summary: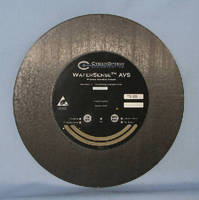 Designed to meet future fab requirements, AVS450 Wireless Auto Vibration System travels through entire path of wafer to measure vibrations of wafer transfers in X, Y, and Z dimensions during semiconductor processes and fabrications. System reports real-time acceleration data so engineers can identify vibration anomalies. With Model AVS450, users can observe and optimize wafer, cassette, SMIF, and FOUP motions without exposing process areas to environment.
---
Original Press Release:

CyberOptics Introduces 450MM Form Factor of WaferSense® Auto Vibration System to Meet Future Fab Requirements



CyberOptics Semiconductor introduces a new 450mm form factor of its AVS450 Auto Vibration System to assist engineers as they prepare for the next technology cycle, even though it may be few years down the road before fabs start using this form factor.

With vibration tied to semiconductor process equipment failure, low yields and cycle times, engineers need the right tools and analysis software to identify and quantify vibration sources. Random troubleshooting such as parts replacement, conducting complicated partitioned particle checks, and adjusting various tool parameters in a trial-and-error method often don't solve the problem. Traditional vibration measurement methods including stand-alone wired accelerometers are limited in use as they cannot be handled in the same manner as the actual wafers or move through a tool as a wafer.

The AVS450 is a wireless wafer-life vibration monitoring device that travels through the entire path of a wafer to measure vibrations of wafer transfers in x, y and z dimensions during semiconductor processes and fabrications and report real-time acceleration data in three axes for engineers to identify vibration anomalies during wafer processing. It can be used to observe and optimize wafer, cassette, SMIF and FOUP motions without exposing process areas to the environment.

Using the AVS450, engineers can establish yield-based vibration standards for equipment and technicians identify vibration sources and set acceptable acceleration parameters for equipment. Companion vibration monitoring software allows users to set low, high and band pass filters of equipment vibration frequencies to filter out vibrations of 20Hz and below and monitor vibrations of 21Hz and above to troubleshoot for vibration-related contamination. Data can be viewed and manipulated to identify problems and predict equipment failures to improve process yield and cycle times.

In addition to a 450mm form factor, the Auto Vibration System is available in 200 mm and 300mm form factors. For more information on the AVS450 Auto Vibration System, please refer to our web site or contact sales at (503) 495-2200. A short video on the AVS450 also can be viewed at: http://www.cyberopticssemi.com/products/wafersense/avs/

More from Sensors, Monitors & Transducers