Wafer Dicing System processes wafers up to 6 in. dia.
Press Release Summary: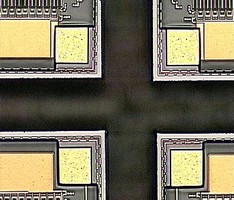 ChromaDice(TM) IX-300 UV Laser Wafer Processing System features ProtectoLED® Technology, which is based on water-soluble protective coating that prevents contamination of wafer during dry-etch process. Utilizing UV-DPSS laser technology at 355 or 266 nm wavelengths, system operates at cut rates up to 150 mm/sec on GaAs wafers, with kerf widths down to 2.5 µm.
---
Original Press Release:

JPSA Announces Deliveries of UV DPSS Laser GaAs and GaP Wafer Dicing Systems



Hollis, New Hampshire, USA -- J P Sercel Associates (JPSA) has begun shipping solid state UV laser wafer dicing systems that include new features and process innovations that solve problems associated with GaAs and GaP contamination. JPSA recently shipped multiple IX-300 ChromaDice(TM) UV laser wafer processing system to major GaAs wafer producers, featuring JPSA's ProtectoLED® Technology, a proprietary, patent-pending system based on a water-soluble protective coating that prevents contamination of the wafer during the dry-etch process. In addition to the established ProtectoLED process, the shipments also included a patent pending development for containing and removing toxic by-products of laser processing GaAs and GaP wafers. Multiple orders of this GaAs dicing system have been received from other manufacturers.

In making the announcement, Jeffrey P. Sercel, President, said, "Our scribing results have been consistently excellent with this new process, which effectively removes any concerns about dry-etch contamination and toxic laser ablation by-products. JPSA has always offered the finest resolution laser scribing technology available, which further reduces the amount of heat input into the wafer during cutting and scribing and reduces the total amount of material removed during the process. The customer has the option of using an in-house scrubber, or a small filter cartridge to remove the waste materials for easy disposal, depending on volume."

JPSA's IX-300 ChromaDice(TM) system operates at cut rates up to 150mm/second on GaAs wafers, with kerf widths of typically down to 2.5µm with JPSA's patent-pending high-resolution optical system.

JPSA's IX-300 ChromaDice(TM) system can process wafers up to 6"in diameter, and uses efficient, cost-saving UV-DPSS laser technology at a choice of either 355nm or 266nm wavelengths. JPSA ChromaDice(TM) technology is now available in the high-volume, high duty cycle IX-300 format or the smaller footprint, lower duty cycle and lower cost IX-200 package.

JPSA products and services include UV excimer and DPSS laser micromachining systems, UV and VUV laser beam delivery systems, UV laser materials processing development, optical damage testing, and excimer laser refurbishment services. JPSA operates a high-performance UV laser job shop as well as a systems engineering and manufacturing business. For more information, visit www.jpsalaser.com, or contact the company at 17D Clinton Drive, Hollis, NH 03049 USA, Tel. 603.595.7048, Fax 603.598.3835.

More from Fluid & Gas Flow Equipment