Wacom Introduces Flex Arm That Supports the Multi-Touch and Pen Pressure
Press Release Summary: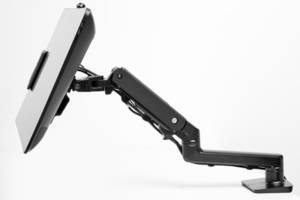 The Flex Arm-Multi-Tasking Arm is designed for Cintiq Pro 24 and Cintiq Pro 32 creative pen displays. The adjustable arm comes with narrow-profile design and a touch of attitude and offers flexibility to those creating digital content on Cintiq Pros. It provides a reach across 30 in. desk and allows user to orient the Cintiq Pro in multiple positions to fit a specific workflow. The arm can easily rotate from landscape to portrait to naturally accommodate user's hand and arm movements.
---
Original Press Release:
Wacom Flex Arm for Cintiq Pro 24 and 32 Available in November
Company partners with Ergotron, Inc. to bring comfort and flexibility to creative professionals using Wacom's latest large format Cintiq Pro pen displays.
PORTLAND, Ore., Oct. 30, 2018 /PRNewswire/ -- Wacom announces the Flex Arm, a robust, multi-tasking arm designed specifically for the company's Cintiq Pro 24 and Cintiq Pro 32 creative pen displays. Wacom teamed with Ergotron, the leading manufacturer of ergonomic monitor arms, to provide an arm that meets the unique needs of artists and designers who use Wacom creative pen displays.
Boasting an elegant, narrow-profile design and a touch of attitude, the Flex Arm delivers comfort and flexibility to those creating digital content on one of the large format Cintiq Pros. The adjustable arm is optimized to support the multi-touch and pen pressure that artists transfer to the display's surface. This type of stability is critical, especially when using the pen for fine ink strokes where any movement of the display can hinder results. Users will greatly appreciate the Flex Arm's ability to meet their ergonomic requirements and to position the Cintiq Pro display for optimal comfort to conform to the varied types of work they may perform throughout the course of their day.
"Our purpose is to use movement to eliminate constraint so our customers can thrive. We know that artists and designers have long depended on Ergotron monitor arms because they allow for ergonomic fit and comfort along with being built for durability. We were excited to partner with Wacom to bring Cintiq Pro 24 and 32 users the performance they've come to expect from our monitor arms," said Jason Schlicht, Vice President of Ergotron's Custom Solutions Division.
Capable of reaching across a 30 inch desk, the Flex Arm allows one to orient their Cintiq Pro in multiple postions to fit a specific workflow. For example, when illustrating, the arm can be fully extended to the edge of the desk for maximum comfort. In addition, the display can be tilted to meet a wide-variety of desired work angles. The arm also easily rotates, from landscape to portrait, naturally accomodating the user's hand and arm movements.
When the time comes to send out some emails, create a spreadsheet or just use the desk for other tasks, the free-floating Flex Arm lets one position the display wherever they like. Straight back. Back and to the right. It's totally user defined with dozens of orientation options available. Setting up the Flex Arm is easy and all the necesssary mounts and brackets are included. Cable management is also a handy feature of the new arm, ensuring that the user's desk remains clear and clutter free.
"Wacom's family of products for the creative professional, the Cintiq Pro 24 and 32, Cintiq Pro Engine and the new Flex Arm, deliver a new level of sophistication by eliminating the barriers and distractions that have historically disrupted the creative process and digital workflow," said Faik Karaoglu, Executive Vice President of Wacom's Creative Business Unit. "It's clear that we are achieving our goal of providing artists and designers with the right mixture of products to work naturally and fulfill their creative aspirations."
Wacom's Flex Arm ($379 USD) will be available on the Wacom eStore and select Wacom Cintiq Pro resellers around the middle of November. The Cintiq Pro 24, Cintiq Pro 32 and the Cintiq Pro Engine are all shipping now.
About Wacom
Founded in 1983, Wacom is a global company based in Japan (Tokyo Stock Exchange: 6727) with subsidiaries and affiliate offices around the world to support marketing and distribution in over 150 countries. Wacom's vision to bring people and technology closer together through natural interface technologies has made it the world's leading manufacturer of interactive pen tablets and displays as well as of digital styli and solutions for saving and processing digital signatures. The advanced technology of Wacom's intuitive input devices has been used to create some of the most exciting digital art, films, special effects, fashion and designs around the world and provides business and home users with their leading interface technology to express their personality. Please visit www.wacom.com for further information.
For more information, please contact:
Douglas A. Little
Senior Public Relations Manager
503 525 3174
douglas.little@wacom.com
More from Architectural & Civil Engineering Products