Wabash Press Installed at New Purdue University Indiana Manufacturing Institute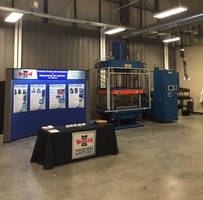 A Wabash MPI composite molding press is part of the new collaborative research facility at Purdue University.  A versatile down-acting 250 ton composite molding press with 42" by 42" heated platens (up to 1000 degrees) and cooled platens from Wabash was installed in at the Indiana Manufacturing Institute.  This press will help Purdue University develop next-generation composite molding compounds for the LNG, Wind Power and Automotive Industries.  The West Lafayette, Indiana facility allows for collaboration of educational resources and research.



Wabash MPI is a leading international supplier of standard and custom presses to the medical, aerospace, recreation, automotive, education and energy markets.  Applications include ASTM polymer testing, proppant crush testing, rubber, plastics and composites molding, RD, laboratory and other specialized processes.  Included are elastomer and vacuum molding machines for compression, transfer molding, laminating, and trimming.  Wabash also offers custom engineered presses, as well as used and reconditioned presses.



For more information contact Wabash MPI, an ACS Group Company, PO Box 298, Wabash, IN 46992-0298.  Phone: 260-563-1184, Fax: 260-563-1396.  E-mail: wabashmpi@acscorporate.com, Website: www.wabashmpi.com.



More from Fluid & Gas Flow Equipment