Wabash and Carver Attending Rubber Mini Expo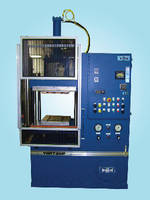 Wabash MPI and Carver, Inc. will be exhibiting at the Rubber Mini Expo in Booth No. 510 at Frontier Airlines Center from October 12-14, 2010. Wabash and Carver are leading manufacturers and suppliers of standard and custom production and laboratory presses for rubber applications. The full line of Wabash and Carver presses will be highlighted at the show.

Wabash MPI offers standard and custom hydraulic presses for compression molding, transfer molding, ASTM testing, vacuum molding, laboratory and R&D applications. All electric compression presses are also available from Wabash. Press sizes range from 15 to 1,000 tons.

Carver, Inc. is a leading supplier of manual and automatic, two-column and four-column, benchtop and floor standing laboratory presses. Applications include R&D, laboratory, physical testing and other specialized applications. Carver's full line offers clamping capacities from 12 to 100 tons.

For more information contact Wabash MPI, PO Box 298, Wabash, IN 46992-0298. Phone: 260-563-1184, Fax 260-563-1396. E-mail: wabashmpi@corpemail.com, Website: www.wabashmpi.com.

For more information contact Carver, Inc., PO Box 544, Wabash, IN 46992-0544. Phone: 260-563-7577, Fax: 260-563-7625. Website: www.carverpress.com, E-mail: carverpress@corpemail.com.

More from Food Processing & Preparation