Wabash and Carver at International Elastomer Conference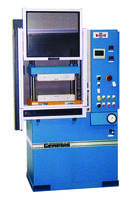 Wabash MPI and Carver, Inc., premier manufacturers of molding presses, will be highlighting their full line of presses from .5 to 1200 tons for laboratory and production applications at the 2017 International Elastomer Conference in Booth No. 708. The exhibit will feature Wabash and Carver presses with the latest technology and options. The International Elastomer Conference is held from October 10th – 12th at the Huntington Convention Center in Cleveland, OH with over 200 companies and organizations exhibiting.
Wabash MPI offers a wide variety of hydraulic and pneumatic presses for compression molding, transfer molding, vacuum chamber molding , ASTM testing, and laminating for an array of materials including rubber, silicone, composites, LSR, plastic and more.
Carver, Inc. offers two-column and four column benchtop, manual and automatic hydraulic laboratory presses with clamping capacities from 12 to 48 tons. Carver presses are suited for various materials research such as plastics and elastomers, as well as pharmaceuticals, analytical chemistry, lab testing, laminating and other applications including sample preparation.
For more information contact
Wabash MPI,
PO Box 298,
Wabash, IN 46992-0298.
Phone: 260-563-1184,
Fax: 260-563-1396.
E-mail: wabashmpi@acscorporate.com,
Website: www.wabashmpi.com.
Dave Singer
Sales and Marketing Manager
For more information contact
Carver, Inc.,
PO Box 544,
Wabash, IN 46992-0544.
Phone: 260-563-7577,
Fax: 260-563-7625.
Website: www.carverpress.com,
E-mail: carverpress@acscorporate.com.
More from Communication Systems & Equipment