Würth Elektronik Offers Matching Service for its WE-MCA Chip Antennas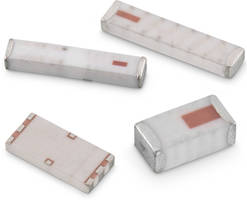 Successfully Miniaturizing Radio Applications
Waldenburg (Germany), 29 October 2020—Würth Elektronik now offers developers wanting to use WE-MCA series chip antennas a free matching service. WE-MCA are compact SMT-mountable multilayer ceramic chip antennas available in numerous single and dual band versions. The antennas therefore provide a space-saving solution for GSM-900, WiFi, Bluetooth, GPS/GNSS, ZigBee or 4G/LTE enabled devices and facilitate compact designs for IoT and smart home applications. The challenge here: The performance of the applications also depends on the placement of the antenna on the PCB and effective impedance matching. Würth Elektronik advises on the layout and selection of suitable inductors and capacitors to eliminate disturbing influences from the surrounding environment.
The trend towards miniaturization of wireless communication devices is reducing PCB size and increasing component density. The demands placed on RF front-end design are growing, as an antenna is a function of it's surroundings and gets influenced by almost everything e.g rubber, plastic, metal, human body etc…. Developing companies, without access to their own high-frequency specialists, can now benefit from the free consulting services offered by Würth Elektronik. Inquiries are accepted around the clock at antenna.matching@we-online.com. Detailed information on the right use of chip antennas can also be found in the Application Note "WE-MCA Multilayer Chip Antenna Placement and Matching".
All necessary components in the portfolio
"Würth Elektronik keeps the components needed to develop an antenna matching circuit available in the stock—also as part of the free sample service. These include WE-BAL Multilayer Chip Balun, WCAP-CSRF MLCCs, WE-KI ceramic inductors, as well as low-pass and bandpass filters.
About the Würth Elektronik eiSos Group
Würth Elektronik eiSos Group is a manufacturer of electronic and electromechanical components for the electronics industry and a technology company that spearheads pioneering electronic solutions. Würth Elektronik eiSos is one of the largest European manufacturers of passive components and is active in 50 countries. Production sites in Europe, Asia and North America supply a growing number of customers worldwide.
The product range includes EMC components, inductors, transformers, RF components, varistors, capacitors, resistors, quartz crystals, oscillators, power modules, Wireless Power Transfer, LEDs, sensors, connectors, power supply elements, switches, push-buttons, connection technology, fuse holders and solutions for wireless data transmission.
The unrivaled service orientation of the company is characterized by the availability of all catalog components from stock without minimum order quantity, free samples and extensive support through technical sales staff and selection tools.
Through its technology partnership with the Audi Sport ABT Schaeffler Formula E Team and its support for the Formula Student racing series, the company demonstrates its innovative strength in eMobility (www.we-speed-up-the-future.com).
Würth Elektronik is part of the Würth Group, the world market leader for assembly and fastening technology. The company employs 7,300 staff and generated sales of 822 million euros in 2019.
Würth Elektronik: more than you expect!
Further information:
Würth Elektronik eiSos GmbH & Co. KG
Sarah Hurst
Max-Eyth-Strasse 1
74638 Waldenburg
Germany
Phone: +49 7942 945-5186
E-mail: sarah.hurst@we-online.de
www.we-online.de
Press contact:
HighTech communications GmbH
Brigitte Basilio
Brunhamstrasse 21
81249 Munich
Germany
Phone: +49 89 500778-20
Telefax: +49 89 500778-77
E-mail: b.basilio@htcm.de
www.htcm.de
More from Packaging Products & Equipment