W-LAN Receiver System utilizes PocketPC® environment.
Press Release Summary: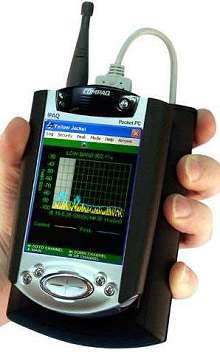 Yellowjacket(TM) 802.11a Wi-Fi Analysis Tool works with Compaq's iPAQ PocketPC for sweeping, analyzing, and optimizing 5 GHz Wireless Local Area Networks. Calibrated receiver measures all 12 OFDM network channels operating on IEEE 802.11a standard, allowing users to determine Access Point, Packet Error Rate, SSID and RSSI signal levels of all access points, and NIC Client cards on or off network.
---
Original Press Release:

Berkeley Announces Handheld 802.11a W-LAN Receiver System


METUCHEN, New Jersey. -- March 7, 2003 -- BVS introduces the Yellowjacket 802.11a Wi-Fi Analysis Tool.

Yellowjacket 802.11a is a wireless receiver system designed to work with Compaq's iPAQ PocketPC for sweeping, analyzing and optimizing 5 GHz Wireless Local Area Networks. The calibrated receiver measures all 12 OFDM network channels operating on the IEEE 802.11a standard allowing the user to determine the AP (Access Point), PER (Packet Error Rate), SSID and RSSI signal levels of all access points, and NIC Client cards on or off the 802.11a network. Yellowjacket(TM) 802.11a allows those familiar with the iPAQ's PocketPC® interface a unique advantage over "software only" products currently available because Yellowjacket(TM) functions as a complete WLAN analysis system combining the elegant PocketPC® environment along with Berkeley's precision receiver technology.

Yellowjacket 802.11a receiver system will be officially announced at this year's CTIA Wireless Show in New Orleans and released in the spring of 2003.

VISIT BVS BOOTH 5953 in New Orleans March 17-19

VISIT www.bvsystems.com for details

Craig Schober
Media Director
Berkeley Varitronics Systems
255 Liberty Street
Metuchen, NJ 08840-1217
www.bvsystems.com
732-548-3737
732-548-3404


More from Services