VX Extends Varistor Product Offering to Include Lead-Free Version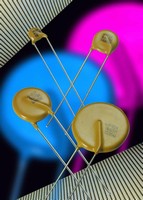 RoHS-compliant MOV ideal for devices subject to electrical interference...

MYRTLE BEACH, S.C. (October 24, 2006) - AVX Corporation, a leading manufacturer of advanced passive components, has extended its VE/VF Series of metal oxide varistors to include a lead-free version. Ideal for telecommunication, industrial equipment, consumer electronic and automotive applications, the RoHS-compliant MOV devices provide excellent transient voltage protection by limiting surge voltages and absorbing energy pulses.

"AVX's new RoHS-compliant MOV provides the same superior transient protection as our standard MOVs," said Brian Ward, AVX Worldwide Business Manager for Circuit Protection Products. "We are pleased to provide our customers with a green MOV solution that meets the European Union's RoHS directive."

Operating voltage is from 18 to 825Vdc and energy absorption is from 0.4 to 230 joules. Peak current handling is up to 10,000A.

The lead-free MOV is made of zinc oxide, sintered with other metal oxide additives and is CECC and UL 1449 certified.

AVX RoHS-compliant MOVs are available from stock to 10 weeks and are priced at $0.04 in 10,000 piece volumes.

For more information on AVX RoHS-compliant MOVs, contact
AVX
801 17th Avenue South,
Myrtle Beach, S.C. 29578;
by calling 843-448-9411,
by fax at 843-444-2864
or on the Web at www.avx.com.

AVX Corporation is a leading international supplier of electronic passive components and connectors with 20 manufacturing and customer support facilities in 12 countries around the world. AVX offers a broad range of devices including capacitors, resistors, filters, timing and circuit protection devices and connectors. The company is publicly traded on the New York Stock Exchange (NYSE:AVX).

More from Software