Vulcanized Collet Systems interchange within seconds.
Press Release Summary: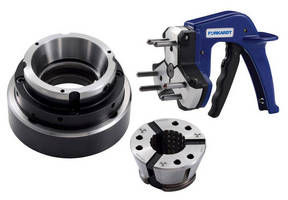 Comprising flexible, sealed collet heads, OmniGrip Collet Systems are available with spindle mounts for multiple brands of CNC lathes and offer accuracy of .0004 in. TIR on A and D styles and .0008 in. TIR on DL style. Vulcanized rubber bonds hardened, chrome-nickel steel collet sections together providing elasticity for repeated opening/closing of collet without deterioration. Manual wrench can be used to compress collet, enabling changeover in seconds.
---
Original Press Release:

Forkardt Introduces OmniGrip Vulcanized Collet Systems



Forkardt OmniGrip Collet Systems are flexible, sealed collet heads that interchange in seconds and are available with spindle mounts for most brands of CNC lathes. However, quick changeover is not the only benefit you'll experience. With an accuracy of .0004" TIR on the A and D styles, and a .0008" TIR on the DL style, the OmniGrip falls in the "special accuracy" collet classification. These systems achieve the same gripping capability as conventional collets while using less draw bar force.



Vulcanized rubber bonds the hardened, chrome-nickel steel collet sections together providing superior elasticity for repeated opening and closing of the collet without deterioration. A manual wrench can be used to compress the collet providing quick changeover in seconds instead of minutes! The collet head has a gripping range of ±.020" (.5mm) of its nominal size to allow variation in bar stock without having to change the collet. True parallel clamping minimizes stock "push back" that could create inconsistent part lengths. Purchase one spindle mount and interchange collet heads from job to job. Forkardt OmniGrip collet heads are fully interchangeable with competitor's models.



An Emergency Collet can be kept on hand for just-in-time machining when the proper size hardened collet is not in your tool drawer. The taper and collet seat of an emergency collet are hardened while the ID and the face of the collet head are soft. A face boring ring will hold the collet in nominal position for boring to size. Emergency collets are reusable. Standard collets, ordered to size, are stocked in round smooth, round serrated, hex smooth, hex serrated, square smooth, emergency and S-master style collets. Square sizes are made to order.



The OmniGrip Collet Systems are available in 42, 65 and 80mm sizes and are ideal for machines experiencing multiple changeovers daily and where stock variations occur. When using a Forkardt OmniGrip system, it takes less than 10 seconds to change a collet. Setup time is drastically reduced when compared to 191 seconds to change three jaws on a power chuck or 79 seconds that it takes to change a collet in a standard collet chuck. Test results from repeated collet actuation indicate a highly durable, fully sealed gripping solution. For more information contact Forkardt at 800.544.3823 or visit www.forkardt.us.



About Forkardt

Forkardt is a global designer and manufacturer of machine tool accessories intended to solve the most difficult workholding applications.  From first operation turning to finish grinding, Forkardt can provide advanced workholding solutions with their highly-engineered line of chucks including the original Ball Lok Chuck known as the UBL, the Equalizing Counter Centrifugal Chuck (ECC) and the Forkardt Indexing Chuck.  Forkardt is continuously innovating with the introduction of the Metric Tork Lok design, the Tru-Change Carrier System and the Advanced Ball Lok chuck.  Forkardt has a very diverse customer base and serves a wide variety of end-user markets by providing chucking options that range from the high-end Forkardt and N.A. Woodworth brands to the standard Buck Chuck, Logansport, and S.P. Sheffer lines.  This customer base includes metalworking manufacturers which make parts for a variety of industries, as well as a wide range of end users in the aerospace, agricultural, transportation, basic consumer goods, communications & electronics, construction, defense, energy, pharmaceutical & medical equipment and recreation industries, among others. Forkardt has manufacturing operations in the United States, Germany and France. For more information, please visit http://www.forkardt.us.



Forkardt

2155 Traversefield Drive

Traverse City, MI 49686 USA

Phone: 800-544-3823

Fax: 231-995-8361

E-mail:  sales@forkardt.us



Editorial Contact:

Michele Marotz

Segment Manager

231.995.8328

mmarotz@forkardt.us

www.forkardt.us





More from Computer Hardware & Peripherals