Vulcan Uses Clear Die Bases in Die Cut Process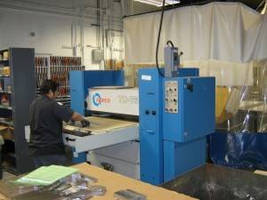 One of the defining aspects of Vulcan GMS is our commitment to continuous improvement. As an ISO certified company this is a core value.



We diligently endeavor to meet or exceed our valued customers' requirements. However, most people think that this only relates to the physical quality of a part. In fact, Vulcan takes this sentiment one step further. We also apply continuous improvement initiatives to processes in an effort to maximize efficiency. In the spirit of lean manufacturing, cost savings that are derived from continuous improvement activities can be passed on to our customers. In some instances, lead times can also be improved.



One of the most recent areas of continuous improvement has been in our die cutting process. In the die cutting process, sheet lead is used as the feed stock. This sheet lead comes at a premium cost, since the foundry has to convert it from ingot form to an appropriate sheet product. Therefore, it is important to consume the sheet lead as efficiently as possible. Yields are particularly important when parts are made from a specially manufactured sheet lead or a sheet lead that has been laminated with another material like pressure sensitive adhesive or vinyl. While Vulcan may be able to recover the scrap lead, the premium on the cost that was paid for the sheet lead is still lost.



To improve this process, we've begun to use steel rule dies with a clear acrylic or polycarbonate base, instead of the traditional wood base. This has allowed us to more tightly nest the cavity pattern each time the die is placed on the lead sheet stock, because the operator can now see through the die. As a result, we can now nest the parts so that the remnant webbing between the parts is 3/16" or less. Previously, the best that we could reliably accomplish with a wood base was about 3/4"-1". The operator was estimating conservatively the position of the successive die placements when using the wood based dies since the operator could not see the raw material or webbing.



Vulcan's success in implementing a solution to this historic issue for our customers' benefit. We would be happy to discuss if your parts would benefit from this process improvement. You might be surprised. Contact us today!



More from Electronic Components & Devices