VSR Hammer/Pulse Drill offers two modes of operation.
Press Release Summary: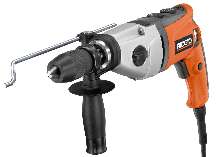 RIDGID® heavy-duty, ½ in. Model R5010 has 2 dials that control torque and speed. When it senses need for slow, high-torque drilling, it switches into pulse mode. Drill uses 9 A Extended Motor Life motor; impact-grade, keyless chuck with spring-loaded internal clamp; and RIDGID auto-stop brushes. Drill features automatic safety clutch and has 2 variable speeds: 0-1,000 and 0-3,000 rpm. For hammer drilling, it runs at 0-19,000 rpm or 0-57,000 bpm.
---
Original Press Release:
Ridgid® Introduces the One Drill Every Pro Will Want in Their Tool Box
Electronic pulse, 9 Amp EML motor, impact grade keyless chuck make this a must-have (Elyria, Ohio) The new RIDGID® Heavy Duty 1/2" VSR Hammer/Pulse Drill (Model R5010) leaves all other professional corded drills in the dust, and will be the jobsite drill of choice for years to come. "The new RIDGID hammer/pulse drill is the most advanced drill to come on the market in years," said Jeff Drake, spokesperson for RIDGID. "Every feature of this drill sets a new standard that will make it the envy of pros on the jobsite." The R5010 features state-of-the-art electronics with two dials that control the torque and speed of the drill. This allows the drill to monitor the needed torque and adjust accordingly. When it senses the need for slow, high torque drilling, it switches into pulse mode. This feature enables the user to start a bit on ceramic tile or drive 3" lag bolt, similar to an impact drill. The pulse mode also allows the drill to drive screws with damaged heads. The drill's powerful, state-of-the-art 9 Amp Extended Motor Life (EML) motor is German designed and engineered to the tightest tolerances imaginable to operate in extremely dusty, abusive jobsite conditions day in and day out - and last a lifetime (see EML fact sheet attached). The R5010 also features a patented, impact grade keyless chuck to take on tough impact driving and hammer drilling. The chuck has a spring-loaded internal clamp that locks the jaws and bit securely in place and won't loosen from vibration. The motor features RIDGID auto-stop brushes. Unlike normal accessible brushes, which must be inspected for wear and replaced before they can damage the motor, the auto-stop brushes halt the drill's operation when the brushes are worn, before they can damage the motor, eliminating the need to inspect them. This 1/2" drill features an automatic safety clutch, usually only found on the most expensive, industrial-level drills, which protects the user from sudden kickback if the bit accidentally jams. The R5010 has two variable speeds (0-1,000/0-3,000 rpm) for screw driving and drilling. And for hammer drilling it runs at 0-19,000 rpm, or 0-57,000 blows per minute. It has a lock-on button for continuous drilling and overmold on the gripping surfaces, which improves user comfort. The R5010 drill includes RIDGID's exclusive cord package. This package features a 12-foot all rubber power cord, providing extra reach without an extension cord. The rubber cord is more durable than a plastic cord and stays flexible in cold weather. The cord also has a lighted plug, which confirms when the tool is "live," featuring a backlit icon of the tool for easy identification. This feature also reduces confusion on busy jobsites where many tool cords are often plugged into one central power strip. Finally, a Velcro(TM) cord wrap organizes the cord neatly for storage, eliminating knots and tangles. RIDGID® power tools are designed to serve the needs of professional contractors and woodworkers, who demand maximum power and superior durability. Packed with high-performance features, RIDGID power tools enhance productivity, enabling professionals to accomplish work more quickly, accurately and with less effort. Robust materials and rigorous engineering maximize the tools' power, heighten user comfort, and promote longer tool life. RIDGID power tools carry a 90-day satisfaction guarantee and a limited three-year warranty. RIDGID® is a registered trademark of Ridgid, Inc., part of Emerson Professional Tools, a business of St. Louis-based Emerson (NYSE: EMR). The tools are designed and manufactured by OWT Industries, Inc., a wholly owned subsidiary of TechTronic Industries Company Limited (TTI) (HKEx stock code 669; ADR symbol TTNDY). RIDGID® professional power tools are available at The Home Depot in the United States, Canada and Puerto Rico, as well as in industrial supply centers across the United States. For more information on RIDGID tools, go to www.ridgid.com or for customer service call 1-800-4-RIDGID (1-800-474-3443). RIDGID R510 Heavy Duty 1/2" 2-Speed VSR Drill Features o Powerful Extended Motor Life (EML) motor o Electronic pulse mode o Automatic Safety Clutch o Auto-Stop Brushes o RIDGID cord package o Carrying Case Capacities 1/2" Impact-grade keyless chuck Motor o 9.0 Amp, 120 volts Extended Motor Life (EML) motor o 0-1,000/0-3,000 RPM (no-load speed) o 0-19,000/0-57,000 BPM Weight 7.2 lbs EXTENDED MOTOR LIFE The RIDGID® EML(TM) (Extended Motor Life) series features a German designed and engineered motor, manufactured to the tightest tolerances imaginable, to keep working even in the dustiest conditions. This motor features: o Gear teeth which are laser tested to a tolerance of 1/2000 of an inch o High performance, double dust-sealed ball bearings o A case-hardened precision armature shaft, tested for 100 percent true running to 1/1000 of an inch o Connection wiring, tested at an acceleration of 30 G's - that's 30 times the force of gravity (an F-16 can pull 9 G's) o A specially designed, winding protection grid, keeping dust and grit out of the motor o Special wire insulation that provides up to 12 layers of protection o Glass-fiber epoxy resin insulating the copper wire, allowing it to withstand temperatures over 600 degrees F o A high-grade copper commutator, fitted to within a 10 micro mm measuring tolerance. These built-in protections make the EML(TM) motor last up to five times longer than other motors, even in the most abusive conditions.
More from Machinery & Machining Tools