VSD Compressor provides constant pressure.
Press Release Summary: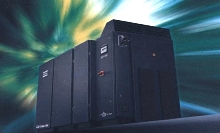 ZE 4 Variable Speed Drive Compressor offers operating range of pressure and flow variants to cover 1 to 3.5 bar and 800 to 3100 m³/hr respectively. It includes integrated frequency converter and oil-free screw design. Vibration free, ZE 4 is fully compliant with EMC directives, and comes in ready-to-use packaging. Features include air intake filter, check valve, and full load/no load regulator. Its silencing canopy reduces noise level to 75 dB(A).
---
Original Press Release:

Atlas Copco ZE 4 VSD Compressor Saves Energy and Improves Stability


With the ZE 4 Variable Speed Drive compressor Atlas Copco Compressor Technique brings significant energy savings to the low pressure market. The ZE 4 VSD combines excellent air quality with a constant pressure for improved process stability. The operating range of pressure and flow variants covers 1 to 3.5 bar and 800 to 3100 m³/h respectively. The all-in-one package features an integrated frequency converter, an industry first in this market segment.

Low pressure air is vital in many industrial processes, such as powder and bulk handling, mixing, aeration, air separation, fermentation, or cooling and drying processes. In most of these applications, product contamination or disturbing pulsations can be detrimental to a profitable and efficient operation. Thanks to its oil-free screw design and Variable Speed Drive technology, the Atlas Copco's ZE 4 VSD totally excludes those risks.

Variable speed, constant savings

By varying the speed of the drive motor, the ZE 4 VSD compressor output closely follows the air demand over a wide range, without load-unload switching. The result is a constant pressure, without fluctuations, which greatly benefits overall process stability.

Furthermore, the typical energy waste during partial load is completely avoided, leading to energy savings between 20 and 35%. The reduction in energy cost over a typical life cycle even surpasses the initial investment cost of the total machine. In other words, the savings realized by VSD pay for the entire compressor.

Integration by design

Because the ZE 4 VSD was designed as a total concept, rather than by adding a frequency converter to an existing machine, it is tightly integrated, mechanically tested without speed windows, vibration free and fully compliant with EMC directives.

The ZE 4 VSD comes in a ready-to-use package with many features included as standard... from an air intake filter to a check valve and a full load/no load regulator. The highly silencing canopy reduces the noise level to a mere 75 dB(A).

The compressor is delivered with an IP55 water and dust proof motor and a built-in starter. The unit and the integrated frequency converter are controlled by the renowned Elektronikon® control and monitoring system.

Dry quality air

The ZE 4 VSD design allows for an easy integration of an aftercooler inside the canopy, without requiring additional floor space. The aftercooler fans are VSD controlled as well, which allows the operator to select the approach temperature via the Elektronikon® control system. This further improves process stability and product quality because the selected outlet temperature will remain constant, irrespective of climatic conditions.

When dry air is needed, the ZE4 VSD can be complemented with an Atlas Copco refrigerant or adsorption air dryer, depending on the application and the air quality requirements.

With its extremely stable air output, its energy saving characteristics, and its efficient all-in-one packaging, the new Atlas Copco ZE4 VSD screw compressors set a new standard in the very specific and demanding low pressure market.

For more information contact Atlas Copco Compressors, Inc., 161 Lower Westfield Road, Holyoke, MA 01040. Telephone: 413-536-0600 or visit our web site at www.atlascopco.com.

More from Fasteners & Hardware